[et_pb_section fb_built="1″ fullwidth="on" _builder_version="3.22.6″][et_pb_fullwidth_post_title author="off" comments="off" featured_image="off" _builder_version="3.23.3″ title_font="Standard||||||||" title_text_color="#ffffff" title_font_size="61px" title_line_height="1.3em" meta_font="Standard2||||||||" meta_text_color="#ffffff" background_color="#000000″ custom_padding="||60px" title_font_size_tablet="39px" title_font_size_phone="28px" title_font_size_last_edited="on|phone"][/et_pb_fullwidth_post_title][/et_pb_section][et_pb_section fb_built="1″ _builder_version="3.23.3″][et_pb_row _builder_version="3.23.3″ max_width="1221px"][et_pb_column type="2_5″ _builder_version="3.23.3″][et_pb_image src="https://thenurj.com/wp-content/uploads/2020/09/Screen-Shot-2020-09-16-at-10.26.09-AM.png" align_tablet="center" align_last_edited="on|phone" module_id="circle-image" _builder_version="3.23.3″ width="40%" width_tablet="26%" width_last_edited="on|desktop"][/et_pb_image][et_pb_text _builder_version="3.23.3″ text_font="Standard2||||||||" text_font_size="27px" min_height="40px" custom_padding="18px||"]

Gabriella Tran

[/et_pb_text][et_pb_text _builder_version="3.23.3″ text_font="Standard2||||||||" text_text_color="#000000″ text_font_size="16px"]

Northwestern '22
Neuroscience Major
Minor in Global Health Studies

[/et_pb_text][et_pb_text text_font_size="18px" _builder_version="3.23.3″ text_font="||||||||"]

Gabriella Tran is an incoming junior majoring in Neuroscience and minoring in Global Health studies. Her passion for medicine and public health has allowed her to gain valuable experiences. She has participated in service trips and a medical brigade, learning about public health issues in various communities, to further her interests in those fields as an aspiring physician. She hopes to continue exploring research related to international public health issues throughout her undergraduate career and beyond. 

[/et_pb_text][/et_pb_column][et_pb_column type="3_5″ _builder_version="3.23.3″][et_pb_toggle title="Q&A" _builder_version="3.23.3″ title_font="Standard2|700|||||||" title_font_size="19px" title_letter_spacing="2px" body_font="Standard2||||||||"]

In a nutshell, what is your research topic?

The focus of my research was oncofertility, a field that aims to connect oncology and reproductive endocrinology. One of the primary aims for oncofertility is enhancing reproduction for cancer patients. I analyzed barriers to oncofertility interventions and improvements in implementing these interventions in medical practices worldwide. 

How did you come to your research topic?

Coming into my first year at Northwestern, I participated in a summer Oncofertility Program at Northwestern University Medical Center. In this program, I was exposed to a cancer research lab, gained insights to how 3D-ovaries were being developed, talked to cancer survivors with oncofertility problems about their hardships, and learned alternative fertility methods for treat cancer patients. Most importantly, I became more knowledgeable in the field of oncofertility, a new field devoted to addressing the efficacy of reproduction in cancer patients. In my global health course taught by Professor Leonard, the final research project consisted of addressing research and policy issues related to international health. I used this opportunity to delve into research related to oncofertility and its prospects.

Where do you see the future direction of this work leading? How might future researchers build on your work, or what is left to discover in this field?

Because oncofertility is a generally new field, much information is yet to be discovered in this field, including research related to alternatives for women with high infertility risks as well. The primary goal for my research project was to increase awareness of this field that is gradually being exposed to medical practices worldwide. 

Where are you heading to after graduation?

I hope to be an incoming first year student at medical school after graduation.

[/et_pb_toggle][et_pb_text _builder_version="3.23.3″ header_font="Noe Display Bold||||||||"]
Thesis
[/et_pb_text][et_pb_text _builder_version="3.23.3″ text_font="Times New Roman||||||||" text_font_size="19px" text_line_height="1.5em"]

Abstract

Within the past years, oncofertility has become an interdisciplinary field that aims to connect reproductive endocrinology and oncology in order to assess the efficacy of reproduction in cancer patients. Various treatments, such as chemotherapy, surgery, or radiation have raised survival rates for cancer patients. Unfortunately, women are often subject to an increased risk of infertility among reproductive-aged patients post-treatment. While oncofertility interventions and treatments are continuing to be developed for female cancer patients, hindrances arise for the implementation of these practices worldwide. These impediments include financial burdens, cultural and religious norms, and lack of education in both men and women within various regions of different countries. Oncofertility interventions have also been introduced to developing countries, although health care services tend to be inadequate in those areas. Because oncofertility is a generally new field, the implementation of these interventions will be analyzed between different countries. While it is important for countries to continue research on oncofertility, countries must also improve awareness of medical care and fertility options for female cancer patients before treatments are administered. Improving awareness of alternatives has been a foundational focus for management services, which have been provided to patients prior to treatment in order to allow patients to make informed decisions upon treatment. In this way, cancer patients will be able to enhance future fertility prospects and be aware of fertility options before and after treatment is administered. 

Introduction

Cancer is a worldwide disease burden that is expanding across socioeconomic statuses in both high-income countries (HICs) and low-middle income countries (LMICs) (Torre et al. 2017). Among females, cancer is the second most common cause of global mortality, 56 percent of which are in LMICs. Females consist of about 49.5 percent of the global population and also make up a greater percentage of the global population over 60 years old. Within the population above 60 years, cancer tends to impact this population the greatest in both HICs and LMICs because of various factors including changing life expectancies and prominent causes of death specific to countries. In LMICs, the cancer burden is approximated to be more prevalent (Torre et al. 2017). LMICs are exhibiting increases in the average life expectancy, mainly attributed to advancements in public health (such as technological advances), which has helped to decrease the prevalence of child and maternal mortality. In 2012, 6.7 million new cancer cases were reported, 56 percent of which stemmed from LMICs (Torre et al. 2017). The highest prevalent number of cancer cases in females are rooted in Eastern Asia, where 1.7 million of the 6.7 million cases in 2012 were reported. By 2030, cancer cases are expected to rise to 9.9 million due to the widening aging population. The rising cancer burden specific to women in LMICs is a result of an expansion in cancer risk factors including differences in age-related reproductive periods, smoking, body weight, and economic transitions. Due to the various factors, the cancer burden and prevalence is greater in LMICs compared to HICs. 

Although prevalence rates for cancer are higher in LMICs, incidence rates for cancer are higher in HICs, specifically within North America, Australia, Asia, Europe, and New Zealand (Torre et al. 2017). The incidence rates account for the occurrence of cancer detection and screening processes along with the risk prevalence of cancer. Cancer mortality and prevalence rates are highest in LMICs within sub-Saharan Africa, Asia, and Oceania. There are lower incidence rates in LMICs compared to HICs due to insufficient nationwide programs for screening, diagnosis, and registration. In 2012, the mortality rates due to cancer were highest in Zimbabwe, Malawi, Papua New Guinea, Mongolia, and Kenya (Torre et al. 2017). On the other hand, mortality rates of cancer were lowest in Central America, South-Central Asia, and Northern and Western Africa as a result of advancements in screening, detection, and treatment practices being implemented in these countries. 

In addition to variants of the prevalence and incidence rates in different countries, various regions of the world are correlated with higher rates of different types of cancer. While thyroid cancer prevalence is highest in South Korea, breast, colorectal, and lung cancer have the highest prevalence rates in Denmark and the United States (Torre et al. 2017). Breast cancer is the most common type of cancer diagnosed worldwide, affecting 140 of 184 countries. Approximately 20% of breast cancers globally are caused by body weight, physical inactivity, and alcoholism, demonstrating that an increase in healthy lifestyle standards could potentially decrease the prevalence of breast cancer worldwide (Torre et al. 2017). On the contrary, cervical cancer comes second in diagnosis in 39 countries, all of which are LMICs. The rising prevalence of cancer in LMICs can be due to limited resources for detection and treatment of cancer, where cancer interventions are more difficult to implement.

According to Salama et al. (2012), the most common forms of treatment for cancer patients include chemotherapy, surgery, or radiation, which can increase the risk of infertility post-treatment. Although advancements in treatments for cancer have risen, resulting in an increase in survival rates, female fertility loss has increased as well. Cytotoxic treatment (such as cytotoxic drugs that prevent cell division to slow the progression of cancer) as well as ovarian aging lead to infertility to female cancer patients in reproductive years (Salama et al. 2012). Infertility is caused by a reduction in oocytes (eggs), which can be caused pathologically or physiologically. The majority of women experience infertility physiologically at menopause due to aging at around 50 years old. However, premature infertility or pathological infertility can be caused by surgery from the removal of benign or malignant masses or aggressive chemotherapy that can cause damage to the oocytes. 

Nonetheless, the risk of infertility can be reduced through various practices that have been implemented in various medical practices worldwide. The UCLA Obstetrics and Gynecology (n.d.) defines Oncofertility, a generally new field that was developed within the past years, as a field connecting reproductive endocrinology and oncology, with the aim of enhancing reproduction for cancer patients. While cancer treatments are improving, fertility treatments and alternative options are also advancing in the medical field. Fertility preservation methods and alternatives for cancer patients with high risks of infertility include shielding (reduces the negative effects of radiation on the ovaries), cryopreservation (freezing the oocytes of a woman for future fertilization), donor eggs (embryos can be implanted into a patient's uterus), or adoption (UCLA Obstetrics and Gynecology n.d.). For cancer patients undergoing intense chemotherapy, cryopreservation of ovarian tissue, oocytes, or embryos is a much preferred method for preserving young women fertility (Abedelahi, Rezaei-Tavirani, Mohammadnejad 2013). Although various fertility options are available to cancer patients pre-treatment, it is significant to note that medical practices tend to place prominence on treating cancer itself before tackling infertility risks. As a result, the lack of acknowledgment for addressing infertility options in medical practices drives the field of oncofertility to create methods of implementing interventions.

The implementation of oncofertility interventions in medical practices has been expanding worldwide in hopes of strengthening pre-treatment discussions between cancer patients and healthcare professionals about options for fertility loss. Although many countries are beginning to adopt interventions to promote awareness on fertility options, many challenges do arise for putting these interventions into practice. Due to oncofertility generally being a new field, the main focus of this paper is to assess the prospects for implementing oncofertility interventions in medical practices, taking into consideration the hindrances individual countries have with adopting these interventions. The actions specific countries are taking by promoting ambassadors and global sites, how medical practices of specific countries are investing in decision aids, and a final recommendation critiquing the decision aids currently utilized will be further discussed in this paper. 

 

Methods

Electronic surveys were gathered from various countries in order to assess how oncofertility care was viewed among healthcare professionals and families with cancer patients. The ethics of the survey in the first study was reviewed by the South Eastern Sydney Local Health District Human Research Ethics Committee (Anazodo et al. 2019). The first survey used a two-round Delphi methodology (online questionnaires) which were sent out to 12 HICs and 4 LMICs. In the first round of surveys, there were 457 participants (332 healthcare professionals and 125 families). The second round of surveys had 138 participants (122 healthcare professionals and 16 families). The healthcare professionals were selected through an international expert panel that consisted of fertility, oncology, and endocrinology healthcare professionals (Anazodo et al. 2019). The survey included questionnaires revolving around what resources should be provided to patients and healthcare professionals in order to begin implementing oncofertility interventions. The survey was specifically comprised of statements about the role healthcare professionals should play in discussing infertility options to patients before treatment is administered, which oncofertility decision aids would be best, if healthcare professionals should receive proper oncofertility training, and what fertility related support should be provided for patient family groups. The information gathered allows analyses to be drawn on whether or not oncofertility interventions would be accepted by specific populations and what steps medical practices should expand on. 

The following surveys delved into the oncofertility networks that are expanding across continents with oncofertility ambassadors stationed worldwide. Surveys were sent to developing countries within the Oncofertility Consortium Global Partners Network (OCGPN) and the Oncofertility Professional Engagement Network (OPEN). The information related to the spread of these networks relates to the prospects of oncofertility as a field worldwide. The next two studies include two surveys that documented the challenges to implementing oncofertility interventions into medical practices within developing countries, drawing similarities and differences between the countries. In the first study, Rashedi et al. (2017) identified that a survey was sent to the 191 contacts of the OCGPN to collect information about the hindrances of adopting oncofertility interventions. The Northwestern University Institutional Review Board reviewed the study prior to sending out the survey. The various countries the study gathered data from is shown below.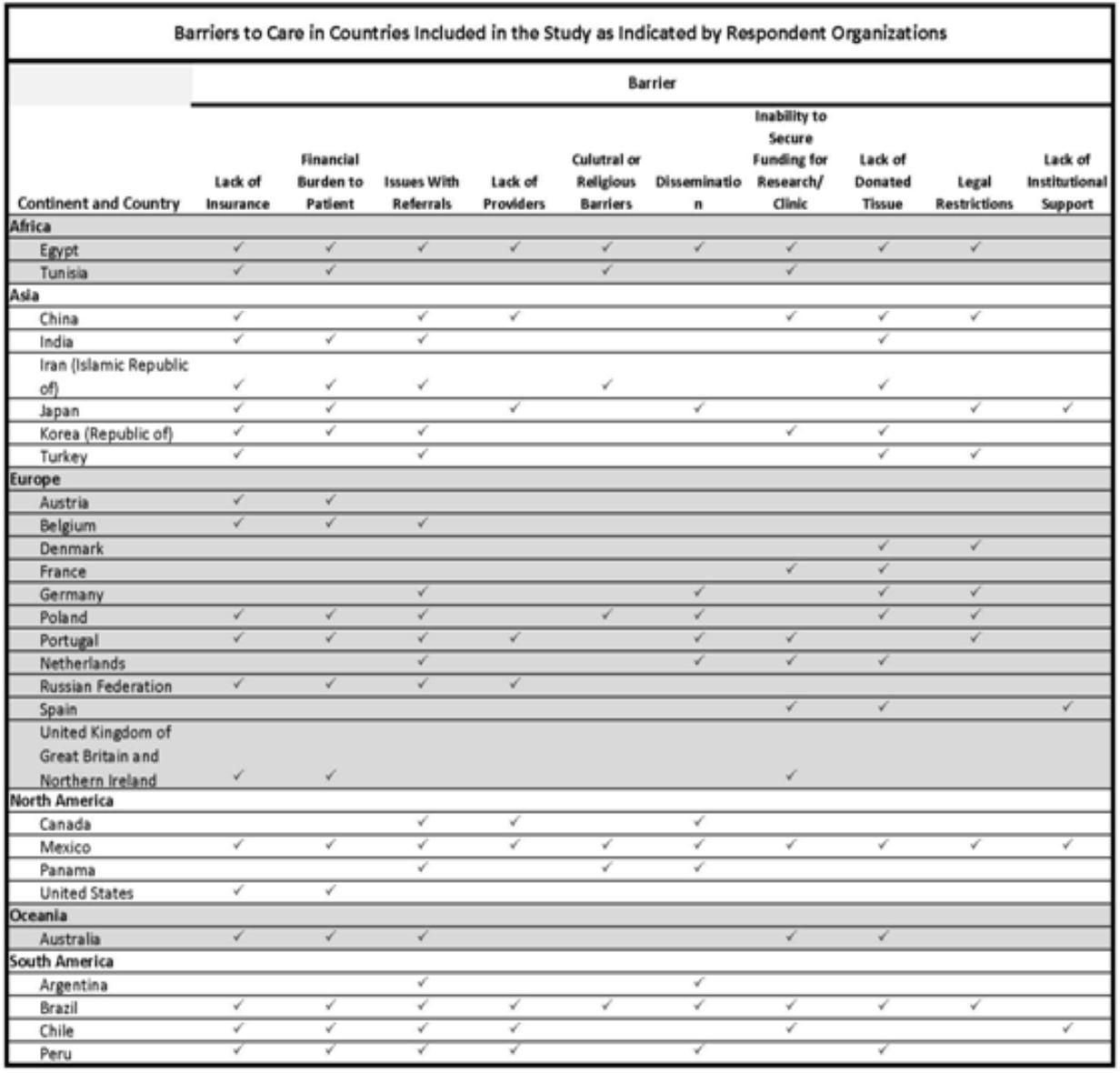 Table 1. Barriers to Care in Countries Included in the Study as Indicated by Respondent Organizations. This table shows the countries associated with the OCGPN that were surveyed in the Rashedi et al. (2017) study. The barriers individual countries faced while implementing oncofertility interventions in their medical practices were specified.
The second study sent surveys to five oncofertility sites in Latin America and Africa within the OCGPN by email (Salama et al. 2018). The following countries and specific sites were surveyed.
Country
Surveyed Center

Africa

 

 

Egypt

Reproductive Medicine Department, National Research Center, Cairo, Egypt.

 

Tunisia

Aziza Othmana Hospital of Tunis, Tunis, Tunisia

Latin America

 

 

Brazil

In Vitro Consultoria — Research and Development/Clinical Embriology, Belo Horizonte, Minas Gerais, Brazil Deparment of Obstetrics and Gynecology, Universidade Federal de Minas Gerais, Bel Horizonte, Mìnas Gerais, Brazil

 

  Peru

Centro de Estrudios e Investigaciones en Biologia y Medicina Reproductiva, Lima, Peru

 

Panama

IVF Centro de Reproduccion (IVFPANAMA), Consultorios Hospital Punta Pacific, Panama City, Panama
Table 2. Surveyed Centers from Five Developing Countries (Salama et al. 2018). This table shows the countries that were surveyed in the Salama et al. (2018) study. The medical centers that were surveyed in the countries were specified. 
The data collected from this survey provided information on barriers to oncofertility care specific to each country, affecting prospects for oncofertility in medical practices. The final data presented provides information about ways in which medical practices in specific countries are implementing oncofertility interventions using web-based decision aids including patient navigators. Literature databases between 1994 and 2018 were searched to collect the data on decision aids (Speller et al. 2019). Through this data, analyses can be drawn on the current oncofertility care interventions being implemented in medical practices worldwide. 
Research Findings
The aim of the first survey was to establish a framework addressing the roles healthcare professionals and families should play in order for oncofertility interventions to be effective in medical practices (Anazodo et al. 2019). The significant statistics to note include the following:
82.7 percent: oncofertility practices should be a standard practice in medical environments

92.9 percent: patients should be provided age-appropriate care including discussion on fertility probability and options post-treatment

97 percent: healthcare professionals should disclose potential risks and provide decision aids before treatment is administered for cancer patients to be aware of the fertility options that are offered

Oncofertility decision aids provide health educational materials on reproductive options, allowing health care professionals to efficiently reference them and stimulate fertility discussions with patients. 

88.5 percent: oncofertility training should be provided to healthcare professionals. 

The training includes receiving education on consistent care, oncofertility material, and how to communicate the information with patients. 
The survey provided a potential three-tiered oncofertility service model that medical practices could implement in their care (Anazodo et al. 2019).
Three-Tiered Model

Tier 1: Essential Oncofertility Services

Familiarize healthcare professionals and cancer patients with infertility risk, fertility preservation options, and post-treatment options (such as adoption or surrogacy). Provide appropriate resources and information (decision aids) for the different needs of each cancer patient.

Tier 2: Enhancing Oncofertility Services

Provide support groups or psychosocial therapy for cancer patients with reproductive concerns and have age-appropriate services.

Tier 3

: Enhancing Specialized Oncofertility Services

Healthcare professionals receive education on oncofertility aids and become a mentor for patients to provide help on reproductive decisions. 

Provide patients access to oncofertility research services.
Table 3.  This table summarizes the Three-Tiered Model to Implementing Oncofertility Services (Anazodo et al. 2019).

 

Overall, the primary takeaway of the Anazodo et al. (2019) study was enhancing education of fertility options pre-treatment by strengthening communication between healthcare professions and cancer patients as well as their families. 

Although the three-tiered model noted above serves as a potential framework, the subsequent surveys focused on the challenges of implementing oncofertility services in medical practices worldwide. Twenty eight oncofertility-practicing countries were surveyed, where many of the countries shared similar barriers (Rashedi et al. 2017). A significant barrier this study noted pertained to countries expressing legal restrictions and cultural and religious norms. Out of the 28 countries that were surveyed, the laws that focus on surrogacy, adoption, and egg donation differs between countries. Countries such as Saudi Arabia are subject to fertility treatments only being provided for married heterosexual couples, while in Chile, homosexual couples are restricted from adopting (Rashedi et al. 2017). Embryo and egg donation also varies among countries as it is legal in 13 countries, illegal in 9 countries, and is not regulated in 6 countries out of the 28 that were surveyed. In 17 countries, egg donations are offered to heterosexual couples, while 7 countries permit donations to homosexual couples. The way countries socially perceive embryo donations varies among countries as well. Countries such as South Korea only allow donations for research purposes (Rashedi et al. 2017). This data highlights varying accessibility of care due to cultural and legal norms, which causes concerns for implementing oncofertility practices. 

Similarly, another study conducted surveys across developing countries including Brazil, Peru, Egypt, Panama, and Tunisia, identifying common barriers of adopting oncofertility practices between the countries. Approximately 50 percent of cancer cases in developing countries typically arise in individuals younger than 65 years of age, many of whom are in reproductive periods (Salama et al. 2018). Due to increasing survival rates for cancer, the need to implement oncofertility services for cancer patients to discuss fertility options heightens. Across the surveyed developing countries, financial burdens tend to be a factor inhibiting the expansion of oncofertility services (Salama et al. 2018). Families are mainly paying for medical expenses out-of-pocket along with insufficient insurance coverage. As a result, oncofertility methods of discussing fertility options pre-treatment are actively seen with affluent patients. Another burden limiting the scope for oncofertility care in medical practices is lack of education on fertility (Salama et al. 2018). Healthcare professionals and cancer patients tend to solely focus on tackling cancer itself rather than discussing infertility risks due to cancer being a life or death matter. With a lack of awareness on fertility discussions, referrals to endocrinologists are low and due to this, families and healthcare professionals may see discussing fertility measures as insignificant and overlook oncofertility practices overall.

Hindrances do exist in countries implementing oncofertility interventions; nonetheless, oncofertility networks have been expanding across continents as oncofertility sites and ambassadors are stationed worldwide. Although developing countries are limited to health resources specifically for cancer, the Oncofertility Consortium Global Partners Network (OCGPN) works to unite oncofertility sites worldwide in developing countries (Salama et al. 2018). The OCGPN expands to 6 continents with oncofertility sites in over 40 countries, with 85 sites in the United States. The OCGPN works with reproductive specialists from 33 countries to serve cancer patients with high risks of infertility (Woodruff 2010). This network has become an integral part of promoting communication of reproductive interventions between healthcare professionals specialized in oncology and cancer patients. The OCGPN works to provide educational tools for fertility options and outlines the significance of oncofertility interventions. The Oncofertility Professional Engagement Network (OPEN) have shifted their aim to promoting oncofertility ambassadors (Woodruff 2010). Oncofertility ambassadors share new technological advancements and practices for reproductive options. Both the OCGPN and OPEN networks are building stronger connections between countries, where ambassadors and individuals with passions in oncology and reproductive health share methods of implementing oncofertility interventions, resources, and promote awareness of the field of oncofertility. In addition, both OCGPN and OPEN are stimulating the creation of additional fertility preservation networks, such as the Latin American Oncofertility Network and the Peruvian Oncofertility Network (Woodruff 2010). Although geographic distance is a limiting factor to global awareness of oncofertility, the networks are continuing to expand, offering countries the ability to further develop methods of raising reproductive discussions for the benefit of cancer patients and healthcare professionals. 

While the OCGPN and OPEN are widespread networks across continents that are having global effects, individual countries are beginning to adopt their own oncofertility interventions in order to enhance communication between healthcare professionals and cancer patients about fertility options before treatment is administered. Today, the internet is a resource many individuals make use of, and as a result, healthcare systems are taking advantage of this resource for educational purposes (Speller et al. 2019). Due to the lack of adequate information on fertility risks provided pre-treatment, the implementation of decision aids to enhance discussion of fertility is on the rise. Decision aids are defined as resources aiding patients in making suitable selections on healthcare options. These health education materials are providing information on not only risks for fertility preservation, but also supplemental information on patients' treatment and future options for high risk infertility. Australia is providing information on egg donation, embryo donation, surrogacy, and cryopreservation for patients and healthcare professionals through established booklet decision aids (Speller et al. 2019). Likewise, the Canadian Cancer Society has created interactive web-based decision aids that are relaying health reproductive information about fertility options. Consequently, the use of decision aids among countries is continuing to be on the rise and new resources providing information to cancer patients and healthcare professionals are becoming widespread. 

In addition to printable and web-based decision aids, patient navigators are being established at Northwestern. The Oncofertility Consortium (n.d.), originating at Northwestern, promotes patient navigators who are specialized in fertility and have the responsibility of being accessible to healthcare professionals and cancer patients. As young individuals are being diagnosed with cancer, it is significant for oncofertility care to take place immediately. This care can take place in the form of discussions between healthcare professionals and patients about fertility risks of treatments that will be administered. However, there tend to be waiting periods for scheduling, creating distress for both healthcare professionals and patients. Due to this, patient navigators at Northwestern are subject to communicating fertility preservation options to patients in a timely manner, thus allowing patients to be aware of fertility options before discussing with their doctors (The Oncofertility Consortium n.d.). Patient navigators have become a direct resource and support for cancer patients and families, which could serve as an accessible decision aid for other patients in medical practices worldwide.

 

Conclusions and Recommendations

Oncofertility is a promising field that is continuing to expand across continents in order to strengthen communication about fertility options for cancer patients in reproductive ages. Although countries currently face challenges for implementing oncofertility interventions in their medical practices due to legal restrictions, economic standards, and social and cultural norms, there is a rise in the number of resources available to countries and their medical practices from decision aids to patient navigators. The general increase in medical practices adopting oncofertility interventions is accompanied by the growth of international organizations such as OCGPN and OPEN networks. Bridges are being formed where resources, methods, and experiences can be shared and oncofertility interventions can become standard practices worldwide. These resources will allow patients to not only be informed about fertility risks and options they have for reproduction before treatment is administered, but also for healthcare professionals to play a larger role in meeting the specific needs for each cancer patient. With an increase in communication between healthcare professionals and patients through oncofertility interventions, there will be a shortening of waiting periods for health consultations with healthcare professionals. This was shown in a study conducted by Hariton et al. (2016), where oncofertility clinics decreased the time for cancer patients from the time of cancer diagnosis to consultation with a reproductive endocrinologist by 27 percent. Hospitals within Massachusetts have begun to actively refer patients to oncofertility clinics, thereby demonstrating the rise in awareness of oncofertility in medical practices. 

As the field of oncofertility is fairly new, there are still areas in which not much research has been conducted. The potential for patient navigators to be an alternative to doctors and nurses for patients to directly access seems to be promising, however, other medical practices have not adopted patient navigators as it is a fairly new intervention implemented by Northwestern. As a result, a future direction that medical practices worldwide could work on advocating is the use of patient navigators. Implementing the navigators offers patients an additional support system outside of healthcare professionals and family members, allowing patients to make reproduction decisions that are best suited for them. The availability of patient navigators would allow patient-centered care and improve communication of oncofertility care. Despite this future direction towards implementing more patient navigators, additional questions on the cost for implementing patient navigators and the extent to which the role patient navigators would play in discussing with cancer patients and families should be delved deeper into.

Because oncofertility is a generally new field, the research that was discussed in this paper offers great prospects for promoting awareness on fertility discussions. Implementing the three-tiered model into medical practices may take time in the beginning stages, but the outcome will greatly benefit practitioners and patients. The first step for medical practices is to begin with the first tier of the three-tiered model and have discussions in medical practices to promote awareness on the education of infertility risks. From there, health services will be able to move onto the next tiers, which are more specific to the needs of cancer patients as healthcare professionals are receiving training and cancer patients are being mentored on which fertility options are best suited for them. At least 630,000 cancer patients worldwide survive each year and the numbers are continuing to grow (Woodruff, Snyder 2007). The rate of survivorship corresponds with improvements in treatment, which then raises the risk of infertility. The risk of infertility calls for oncofertility interventions that can be implemented in various aspects within medical practices. These implementations can range from establishing educational training programs for healthcare professionals to communicate with patients to creating online or paper form decision aids, overall strengthening the field of oncofertility. Oncofertility can continue to be strengthened as individuals from different nations form bridges and promote awareness on public health worldwide.

[/et_pb_text][/et_pb_column][/et_pb_row][/et_pb_section][et_pb_section fb_built="1″ _builder_version="3.22.6″ background_color="#fcfcfc"][et_pb_row _builder_version="3.22.6″][et_pb_column type="4_4″ _builder_version="3.22.6″][et_pb_divider _builder_version="3.22.6″][/et_pb_divider][/et_pb_column][/et_pb_row][et_pb_row _builder_version="3.22.6″][et_pb_column type="4_4″ _builder_version="3.22.6″][et_pb_text _builder_version="3.23.3″ text_font="Standard2||||||||"]

BIBLIOGRAPHY

Abedelahi A, Rezaei-Tavirani M, Mohammadnejad D. 2013. Fertility Preservation Among the

Cancer Patients by Ovarian Tissue Cryopreservation, Transplantation, and Follicular 

Development. Iranian Journal of Cancer Prevention 6:123-132.

Anazodo AC et al. 2019. The Development of an International Oncofertility Competency

Framework: A Model To Increase Oncofertility Implementation. The Oncologist 24:1-10.

Hariton E et al. 2016. The Role of Oncofertility Clinics in Facilitating Access to Reproductive 

Specialists. Journal of Patient Experience 3:131–136. 

Rashedi A et al. 2017. Survey of Fertility Preservation Options Available to Patients With 

Cancer Around the Globe. Journal of Global Oncology 4:1-7.

Salama M et al. 2012. Female fertility loss and preservation: threats and opportunities. Annals of 

Oncology 24:598-608.

Salama M et al. 2018. Building Oncofertility Core Competency in Developing Countries: 

Experience From Egypt, Tunisia, Brazil, Peru, and Panama. Journal of Global Oncology 

4:1-11.

Salama M et al. 2018. Barriers and Opportunities of Oncofertility Practice in Nine Developing

Countries and the Emerging Oncofertility Professional Engagement Network. Journal of 

Global Oncology 4:1-7.

Speller B et al. 2019. Oncofertility Decision Support Resources for Women of Reproductive

Age: Systematic Review. JMIR Cancer 5.

The Oncofertility Consortium. n.d. The Role of Fertility Preservation Patient Navigators in 

Oncofertility Management. http://oncofertility.northwestern.edu/blog/2012/09/role-fertility-preservation-patient-navigators-oncofertility-management. (accessed November 24, 2019).

Torre L et al. 2017. Global Cancer in Women: Burden and Trends. Cancer Epidemiology, 

Biomarkers, & Prevention 26:444-457.

UCLA Obstetrics and Gynecology. n.d. Oncofertility. 

https://www.uclahealth.org/obgyn/body.cfm?id=391&iirf_redirect=1 (accessed November 29, 2019). 

Woodruff TK. 2010. The Oncofertility Consortium—Addressing Fertility in Young People with 

Cancer. Nature Reviews Clinical Oncology 7:466-475.

Woodruff TK, Snyder KA. 2007. Oncofertility: Fertility Preservation for Cancer Survivors. 

Netherlands: Springer US.

[/et_pb_text][/et_pb_column][/et_pb_row][/et_pb_section]