Culturally Relevant Popular Music Education: A Step Towards Lifelong Musical Efficacy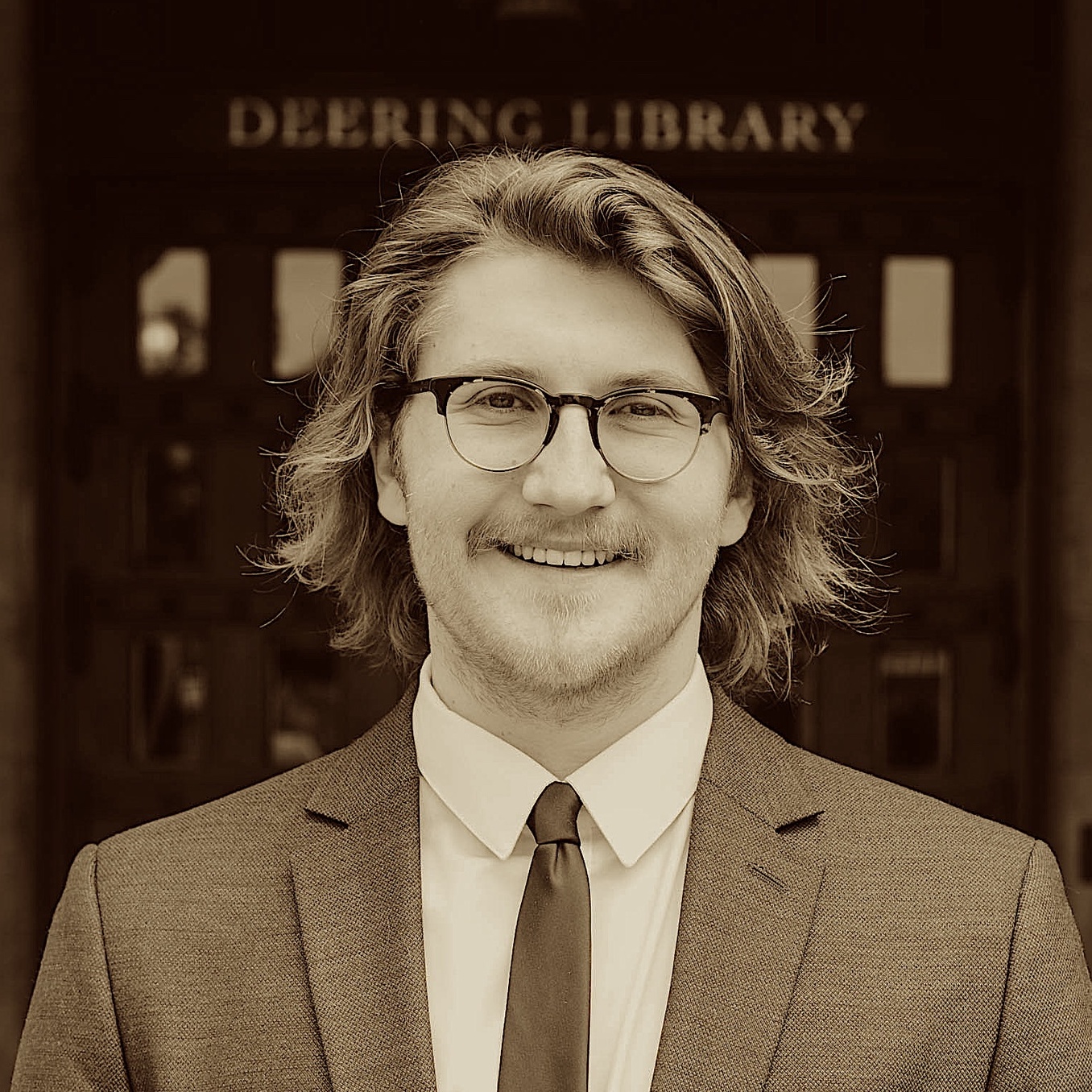 Cody Boukather is a Beinen senior studying music education and ethnomusicology. In 2017, he received a Summer Undergraduate Research Grant to conduct an ethnographic case study concerning contemporary popular music and lifelong learning, and was selected as a Fletcher Undergraduate Research finalist. After graduation, Cody will pursue a graduate degree in ethnomusicology.
What is your research topic, in a nutshell?
My research documents how culturally relevant and contemporary popular music instruction in the high school classroom creates real life benefits post-graduation. It showcases how alumni expand on their musical skill sets and ethical practices learned from their rock band classes in new and exponential avenues.
How did you come to your research topic?
As a person who played in garage bands in high school, teaches hip-hop at the Cook County Juvenile Temporary Detention Center, and taught hip-hop at Lane Tech College Prep in the CPS for my music teaching credential, this pedagogy is dear to me.
Where do you see the future direction of this work leading?
I hope this work produces more critical research on the effectiveness of culturally relevant pedagogies in contemporary popular music education.
Abstract: This article highlights how culturally relevant contemporary popular music instruction in the high-school classroom creates real life benefits post-graduation. It features a case-study involving observations of recent high-school graduates who participated in rock band classes and continued their involvement with their music after secondary-school. The outcomes included: advanced songwriting and musicianship, music professionalism, and community outreach; all of which, stem from the students' rock band and song-writing classes. Documentation of this lifelong learning showcases how these alumni expanded upon the musical skill sets and ethical practices they learned from their rock band classes. From my field work, I concluded that both musical skill sets and human values are conveyed in culturally relevant pedagogies; from there, they are transferred into individual and collective practice post-graduation.
When K-12 music education embraces a student's cultural background, its relevance extends beyond graduation and becomes a formative tool in lifelong learning. It is apparent that this connection between the music classroom and a student's environment, commonly referred to as a culturally relevant pedagogy1, is a productive way to enrich the impact of music for students. Some scholarship on the matter includes: Lucy Green's approach to how popular music in the classroom stimulates enthusiasm amongst students;2 Gloria Ladson-Billings's voicing on how the incorporation of a culturally-relevant music education produces opportunities for social-justice in the classroom;3 and how Maud Hickey's promotion of student composition inside youth-detention centers increases the effectiveness of music as a communicative tool across teacher-student gaps.4 These studies examined how dynamics outside the classroom (i.e. students' socio-economic background, culture, and personal tastes) can strengthen the bond between music and students inside the classroom. What then do students do with a culturally-relevant and composition based music education after they graduate high-school?
Spurred by this question, this article provides qualitative research detailing what kind of impact culturally relevant, contemporary popular music instruction in the high-school plays for its alumnus. Over the span of a three-month research period, this case study focused on how two student-formed music groups continued to hone their performing, composing, production, technological, artistic, commercial, and interpersonal skills post-graduation. These former students had become completely autonomous musicians, whose activities ranged from producing their own records to hosting and recording their shows. In understanding the impact contemporary popular music classes played in the students' post-graduation music making, their high-school classes were observed to identify the transferable skills the former students incorporated during their rehearsals and performances.
Participants
Finding students who continued their music post-graduation initially involved reaching out to Little Kid's Rock5 and asking them said question. This put me in contact with three K-12 music educators in the Los Angeles, California area, Mr. Boyd, Mrs. Paakkari, and Mr. Finn. These three teachers are responsible for the rock band program at Marshall High School in the Los Angeles Unified School District (LAUSD), and when asked about whether their high school rock band program produced alumnus who are actively involved in their own bands post-graduation, they concurred with excitement and provided the names of fifteen alumnus who did so. However, only two of the fifteen who fit my guidelines; that over a three-month period I observe and interview each band, they play at least two shows, and practice a minimum of ten-hours. It was through conversations with Mr. Boyd, Mrs. Paakkari, and Mr. Finn that the bands The Crudes and Midnight Rose became the focus in detailing the efficacy of a culturally-relevant music pedagogy post-graduation.
Introduced to each other through Marshall's rock band and orchestra program, Nathan (drummer) and Rueben (bassist) became friends and continued their relationship by playing music which models the structure they learned in Marshall High School's rock band program. Together, Nathan and Rueben joined The Crudes, a five-piece, Los Angeles based rock group; featuring a singer (Adam), guitarist (Angel), and keyboardist (Isaac) who went to neighboring high schools in the LAUSD.
Midnight Rose is a five-piece rock band featuring an all-alumni membership from Marshall High School's rock band program. Varying in age, 18 to late-20s, the members of the band include two women, Yanely (vocals) and Yasmin (bass); a lead guitarist (Doug); as well as two brothers, Alex (guitar) and Chris (drums). In their beginning, Midnight Rose featured Yanely, Yasmin, and Chris; then, later included Doug, an older Marshall graduate, and Alex, a younger Marshall graduate.
The integration of popular music into Marshall High School began as a reflexive choice by head of the music department, Dee-Dee Paakkari. Abutting Hollywood, Marshall High School caters to a population varying in cultural and socio-economic backgrounds. In conversation, Mrs. Paakkari detailed the need for this class at Marshall High School when she "saw them [students] walking around with long hair, swinging a guitar around their body, and carrying drum sticks in their pockets."6 So it was in the late 1990's that Mrs. Paakkari began teaching guitar classes within the popular music scope at Marshall High School. At its conception, there were few teaching resources catering to the classroom incorporation of popular music through rock band instruments. The course was aimed to create a 'garage band' like environment which provided compositional, analytical, and musicianship skills to guitar students. But, as the guitar class evolved into more of a fully-integrated informal rock band class, featuring bass-guitar, drums, vocals, and regular battle-of-the-bands contests at lunch, its popularity gained momentum in the school and the surrounding Hollywood community. It was this attention from outside the classroom that helped define the rock band curriculum at Marshall High School. Mrs. Paakkari details, "in 2003 we were offered a show at The Greek theatre [Los Angeles based venue]… and we realized that we needed a class not to just have kids practice on their own, but we needed to actually teach them to be ready for a stage like that."7 The focus of the rock band class became more chiseled, incorporating both its original aims and the final performance at the legendary Greek theatre. Here, what grew out of a small interpretation of outside the classroom student characteristics emerged into a large-scale address inside the classroom.   
There are conventional models available today that cultivate this learning environment; specifically outlined in Lucy Green's Music, Informal Learning, and the School: A New Classroom Pedagogy, in the Little Kid's Rock teacher's manual, and in the Musical Future's resource manual8, but Marshall High School's popular music program9 took on a different form. There are three successive courses of rock band instruction at Marshall High School: the first focuses on learning popular guitar and creating your own music; the second centers on learning all the conventional rock band instruments, playing covers, and then creating your own music in a group; and the third, focuses solely on individual and group composition, improvisation, and recording. Since the program is flexible on the macro level (students do not need to take the courses in succession) and on the micro level (a student designed curriculum through composition and repertoire choice), the program is constantly evolving — traversing through historical, technological, social, and cultural phenomena. This environment cohabitates as both a laboratory and a museum in the same sense that Randall Allsup describes in Remixing the Classroom: Towards an Open Philosophy of Music Education. He writes,
"A popular music laboratory would be centered on composing as much as on learning repertoire and following rules. The point, of course, is that students make something illuminating or invent something meaningful and test it in a public arena." (77)
During my observations of Midnight Rose and The Crudes, they engaged in these musical activities: composition, studio and live recordings10, stage design, cover and flyer art design11, band image, networking, technological experimentation with instruments12, and show booking. This array of activities are not bi-products of music (what we hear) in the degenerative sense; they are commonly are referred to as "musicking" and are deeply influential to the sonic experience both bands create. Musicking as an activity incorporates all engagements pertaining to music as functional vessels. The introduction of these musicking engagements for these members began at Marshall High School. When thinking of change through musical experiences, infinitely fruitful possibilities occur under Christopher Small's definition of musicking, which sees music as a verb rather than a noun.
"To music [musicking] is to take part, in any capacity, in a musical performance, whether by performing, by listening, by rehearsing or practicing, by providing material for performance (what is called composing), or by dancing." (9)
Along with their music education at Marshall High School, Ruben and Nathan (The Crudes) and Yanely and Chris (Midnight Rose) received a musicking education through stage design and sound engineering, which was directly transferred into their post-graduation musicking.13 Moreover, musicking implies interaction, it isn't limited to extra-musical activities, but also includes the precise moment where a teacher listens to a student's music. In one observation, musicking in this capacity was remarkably demonstrated through Mr. Finn's compassionately formed critiques of his students' composition and recording.14
The following portion of this paper will examine how a musicking education through Marshall High School's rock band program was a model for the application of practical skills and ethics post-graduation. The post-graduation benefits of musicking in culturally-relevant and composition based program are demonstrated through Midnight Rose and The Crudes and were notably fostered upon engagements of compassion and support.
Integrating recording and sound design elements into Marshall's rock-band courses served the members of The Crudes and Midnight Rose in their own capacities post their graduation. In one of The Crudes shows I attended, the band took up the huge responsibilities of finding a venue, booking all the bands, creating flyers and advertisements, organizing the logistics of the show, amplification, constructing a wooden stage that incorporated lighting, and even utilizing fog-machines. Some of these actions are results of being in a DIY (do-it-yourself) band and are learned through immersion within a musical community. But the ability to design a stage, incorporate proper amplification, utilize their own soundboard system, and furnace stage-lighting are skills that Nathan and Rueben learned from Mr. Boyd's rock band classes at Marshall—which, are relevant activities that meet the cultural demands of being in a rock band. Similarly so, one Midnight Rose show I attended featured the band having a hand in nearly every aspect of the sound production. Since Chris took Mr. Boyd's stage crew classes, he had the ability to set-up a live recording system to document all the bands that played this show. These technological accomplishments are paradigms for how a contemporary popular music class approached from a musicking sense can produce prolific occupational and communal experiences for students post-graduation.15
When there are positive relations between teacher and student during song-writing portions of a rock band program, it produces meaningful experiences that extend beyond the classroom. For Marshall High students who wish to create their own music in popular music styles, the song-writing class taught by Mr. Finn and Mr. Boyd, connects them with music theory to develop their own artistic voice. Rueben (bassist of The Crudes) highly valued the possibilities that come along with music theory. "What we learned, verse-chorus-verse-chorus and playing chords that always resolve back into the one-chord really helped us write songs easily. Not that we get tired of it, but we want to explore more things. You always gotta' [sic] know the basics."16 In our conversations about some of his goals for the class, Mr. Finn relays that the class also serves as an individual and group learning environment for "the act of creative self-expression."17
Yanely (singer of Midnight Rose) commented that her teacher Mr. Boyd expanded upon that creative environment. "Honestly, what Boyd taught us is to just be ourselves and learn how to express what we feel and how to create something out of that."18 Through this class, the topic of feminism became increasingly relevant for Yanely. She spoke about how being a female in a male-dominated rock scene was a difficult task for her, but with Mr. Boyd's motivation, she connected to the topic in a musical manner and continued to do so with compositions after she graduated.
When the teachers in the rock band program at Marshall High School navigated through the roles of authority figure, mediator, facilitator, and mentor with encouragement and compassion, it proved to be a model for the alumni—demonstrating how to interact amongst band members. Chris (drummer of Midnight Rose) describes how Mr. Boyd pushed his compositional standards further in his rock band classes with critical yet motivating feedback. "We would come up with it first. We would come up with every instrument, every structure of it and we would show it to him. If he thinks that it needed work we would follow on what he said. He would say, 'oh no, this and this needs to change, or why don't you just add this?'"19 This statement reflects how Mr. Boyd developed an attitude of creative accountability through honesty and openness, simultaneously portraying the basics of group composition etiquette. The open-dialogue occurring between the students and Mr. Boyd inside this classroom influenced how Midnight Rose interacted with each other during their song-writing stages.
In one practice session,20 Midnight Rose was creating a new song, Look at You. The group was deciding either to feature Yanely singing acapella in the beginning, or provide a homophonic guitar texture accompanying her lyrics. Doug (lead guitar) presents an original idea, featuring an arpeggiated harmonic line that outlines Yanely's vocal melody. The entire group approaches this as a problem-solving task wherein everyone learns Doug's material through approximation—augmenting the rhythm and length to fit Yanely's melody. Due to the emphasis on learning all the standard rock band instruments in at Marshall High, even Chris (drums) was involved by playing the riff on a guitar. After thirty or so minutes of back and forth critiques and dialogue between the band, the group unanimously decided that Doug would strum chords on the downbeat of each measure, thus providing a subtle accompaniment to Yanely's lyrics. Working within a group can be challenging, but the positive, yet critical feedback during this process demonstrated that members of Midnight Rose had developed the socio-emotional tools from their rock band classes to successfully work in this setting.
Similar to the group composition experience with Midnight Rose, one of my observations of The Crudes21 demonstrated how honesty and compassion were the impetus for productivity in their creative songwriting process. In this scenario, Isaac (keyboard) and Angel (guitar) each played a simple progression involving two or three chords. Nathan (drums) and Rueben (bass) joined in and they all began to improvise on the structure—each actively listening to who was playing the bass notes, who was aesthetically changing the style, and who was taking a solo. The flow provided through this non-verbal learning environment was spaced out by clarifying verbal questions. On one occasion, Rueben asked his band-mates how to discern between seventh, ninth, and eleventh chords; Isaac the used his keyboard to teach him the difference. On numerous other occasions the band would respond to a riff someone had come up with by saying, "that sounds like so and so…" and chuckling at the resemblance. Everyone respectfully addressed each other when soloing or asking questions during this song-writing process. It established a space wherein everyone could comfortably contribute and it positively affected the productivity and output of material from the group.
John Dewey writes, "the acquisition of skills is not an end in itself. They are things to be put to use, and that use is their contribution to a common and shared life."22 "Meat Jesus Reloaded," the small-festival I attended created by The Crudes, exemplifies this sentiment. The environment fostered a myriad of inter-personal bonds which centered upon the creation of community between musicians, friends, fans, and strangers. It was host to many local bands (with over 30 acts varying from rock, hip-hop, and electronic) and visual artists of the surrounding community; all of which brought a diverse group of people together for one night. In my correspondence with an attendee of the festival, she said, "you get to see so many different personas, everyone is so unique. They are all their own individuals, but yet, we are all so similar. It's beautiful what The Crudes can do with their music—bring people together."23 The technical skills, like running sound for the entire festival, which Rueben and Nathan of The Crudes learned at Marshall High School proved to be foundational and were further developed after graduation; yielding a different outcome than in school—the promotion of a larger community.24
Midnight Rose also organized a show in the same vein. It featured themselves, The Crudes, and other bands with are Marshall High alumni. This was a reunion show and it centered on rekindling and nurturing the relationships of previous participants in Marshall High School's rock band program. The extensive festivities all occurred at Chris's (drummer of Midnight Rose) house and took place in the forms of food, reminiscent conversations, dancing, and music.25 Similar to Meat Jesus Reloaded, which brought together a wide array of different sounding bands, this housed an experience of the same communal caliber. All the bands who performed had gone separate ways (like going to college) since their departure from Marshall High, but their common tie to the educational institution wherein they learned how to make music was strengthened one more time that night.
In summary, the findings in this research directly link types of conduct evident in alumni student formed bands to their culturally relevant, contemporary popular music education in high school. Both Midnight Rose and The Crudes interacted amongst themselves and their community in ways specific to the rock band program at Marshall High School. The attitudes inherent amongst collective composition and group playing at Marshall High School (activities where the transference of ethics and skill were emphasized) were extended to new activities post-graduation; such as: making records, scheduling band practices and shows, and participating in a larger band community.
This points to musicking being a life-long engagement and promotes the idea that music education should not be considered an ephemeral experience. The graduates of Marshall High explicate that offering a class in contemporary popular music (which might resemble a rock-band, hip-hop, or electronic-media course) within a reflexive learning environment fosters lifelong musical connections. It provides students with practical occupational and interpersonal skills needed to foster a musical life. Further, when a contemporary popular music classroom is an open-circuit, one where students and teachers actively communicate to create their environment, it develops the socio-emotional tools for students to shape themselves through music after they graduate. The importance of approaching the musicking moment by both teacher and student with compassion and understanding while in school is highly valuable. My observations of The Crudes and Midnight Rose demonstrate that when a culturally-relevant and contemporary popular music based music education stresses the individual ethical responsibility of a joint musicking experience, that sentiment is transferred on from school through the bands and ultimately to their communities.
BIBLIOGRAPHY
Allsup, Randall Everett. "Remixing the Classroom : Toward an Open Philosophy of Music Education". Counterpoints (Bloomington, Ind.). Bloomington ; Indianapolis: Indiana University Press, 2016.
Green, Lucy. "Music, Informal Learning and the School : A New Classroom Pedagogy". Ashgate Popular and Folk Music Series. Aldershot: Ashgate, 2008.
Hickey, Maud. Music outside the Lines: Ideas for Composing in K-12 Music Classrooms. New York: Oxford University Press, 2012.
Hickey, Maud. (2018). "We all Come Together to Learn About Music" 1: A Qualitative Analysis of a 5-Year Music Program in a Juvenile Detention Facility. International Journal of Offender Therapy and Comparative Criminology. ss of New England, 1998.
Ladson-Billings, Gloria. "Culturally Relevant Pedagogy 2.0: A.k.a. the Remix." Harvard Educational Review 84, no. 1 (2014): 74-84.
Ladson-Billings, Gloria. "Toward a Theory of Culturally Relevant Pedagogy." American Educational Research Journal 32, no. 3 (1995): 465-91.
Small, Christopher. "Musicking : The Meanings of Performing and Listening". Hanover: University Pre