Trash Collection Service Participation in La Pista, Guatemala: A Community Survey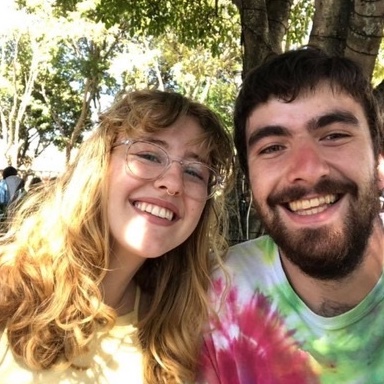 Leah Dunlevy and Amos Pomp
Leah Dunlevy is a senior double majoring in journalism and international studies, and Amos Pomp is a junior majoring in american studies. Leah is currently undecided about her plans after graduating, but will most likely be heading to Princeton in Africa or AmeriCorps. Amos has one more year left at Northwestern.
What is your research topic, in a nutshell?
We examined how a newly-implemented trash management system was working in La Pista, Guatemala four months after implementation.
How did you come to your research topic?
We spent the summer working with leadership in La Pista to implement the trash collection system and we wanted to know if and how the project was still functioning, as well as areas for improvement.
Where do you see the future direction of this work leading?
Future research could investigate how community structure and participation influences program sustainability and effectiveness.
Objective: Survey residents of La Pista, Guatemala to understand why people do or do not participate in a newly developed garbage collection system and how the system could be improved.
Setting: The aldea1of La Pista2in the Municipality of Nebaj – Quiché Department, Guatemala. According to the La Pista auxiliatura3, the aldea is home to about 3,000 people in 570 families.
Intervention: In July and August 2018, interns for the non-governmental organization (NGO) Soluciones Comunitarias worked with the local government to adapt available political and physical infrastructure to include La Pista in Nebaj's trash collection service.
Main outcome measures: In December 2018, we conducted 48 surveys (16 business surveys and 32 residential surveys) to survey public perception of the service, participants' motivations for opting to pay or not to have the truck bring their trash to the dump, and how residents, businesses and community leaders were looking to improve the project.
Results: Participation rates were high: 83.3% of those surveyed had participated in the service at least once. 57.5% of those program participants cited environmental protection as a motivation for paying for the collection service. Of those that did not participate, three said that the service was inconvenient. Suggestions for improvement include a fixed monthly collection date and helping residents carry their trash. Additionally, survey participants recommended educational workshops on relevant topics to increase participation.
Inorganic Waste Production and Disposal
The World Bank's Urban Development department estimates the amount of "municipal solid waste … will rise from the current 1.3 billion tonnes per year to 2.2 billion tonnes per year by 2025. Much of the increase will come in rapidly growing cities in developing countries" ("What a Waste…"). Despite the saliency of the topic in Nebaj and other growing cities, there are apparently no prior studies that have examined waste production in low-income communities in Latin America and the Caribbean (Martínez Arce et al.).
As more waste is produced, the question of waste disposal becomes increasingly important. For reasons unique to each location, up to 40 percent of the world's trash may be burned (Thompson). Burning garbage emits greenhouse gases and smoke, which have negative impacts on both human health and the natural environment (WHO). Smoke often contains poisonous chemicals, heavy metals and other particulate matter that harm respiratory systems. Worldwide, ambient air pollution causes 4.2 million premature deaths per year (WHO). The negative health effects of smoke disproportionately affect young children, elderly and women ("Environment and Health Risks"). Though the environmental and health impacts of littering and burying trash may not be as immediate as that of burning, these acts pollute the environment in the long term, contributing to increased environmental contamination and disease ("2 Rubbish and disease").  
Approaching the La Pista Problem: Environmentalism and Trash Management in Low Resource Communities
Carter (2018) defines four common policy instruments for enacting environmental policy. Carter argues that "policy instruments should be enforceable, effective, and educative: they should change the behaviour of target groups, achieve the stated policy objectives and help spread environmental values throughout society" (332). Using the example of recycling, Carter describes how government investment is likely necessary to develop recycling infrastructure. Once physical structures—household recycling bins, collection trucks, and recycling plants—are in place, public voluntary action is required for the systems to be of use. However, for people to actually participate in recycling services, they first must know about them, so it is up to proponents of recycling to enforce voluntary participation with educative campaigning. Making changes in La Pista's waste disposal habits would require similar community awareness in order to successfully utilize environmental policy to change behavior.
Andrew Dobson discusses the negative aspects of using an "information deficit" model to approach an environmental problem. An information deficit model assumes that people do not know that their actions harm the environment or that they do not know of more eco-friendly options (Dobson 70). Additionally, John Kretzmann and John P. McKnight lay out the theoretical structure for asset-based community development (ABCD), encouraging an understanding of the physical, associational, institutional, economical and individual assets in any given community before making assumptions about what is or is not known or being done (Kretzmann & Mcknight). Dobson's critique of the information deficit model and Kretzmann and McKnight's theories of ABCD influenced our approach because we were interested in the motivations of people in La Pista regarding our project above our own thoughts and priorities.
Dobson also argues that "poor people are often forced to degrade their environments in order to scratch a living, but out of sheer necessity they are often also the best stewards of their immediate environment because of their dependence on it for their livelihoods" (110). Approaching our project with this in mind allowed us to see that communities like La Pista often do have the drive to conserve their natural surroundings but are faced with challenges unique to poor areas (Gerber).
A study by Hettiarachchi et al. (2018) on waste management in Latin America also questions how the role of local governance in waste management systems impacts program efficiency. They suggest that "the governance aspects usually explain how society participates in and accomplishes complex tasks to achieve a common goal such as the [waste] management process, which includes many stakeholders because it is closely attached to day-to-day living of the population" (Hettiarachchi 2). Elias Azzi's 2017 study on responses to Lebanon's waste crisis similarly concludes that effective waste management requires involvement of all stakeholders, including localized actors and centralized collaboration (Azzi).
Since the start of the 21st century, Nebaj and many of its surrounding aldeas have grown quickly, causing a rapid increase in the production of inorganic trash. When we spoke to workers at the municipal dump, they told us that when the landfill was originally created, the edges of Nebaj and La Pista's development were nowhere near the site. But now, houses are being built closer and closer to the disposal depot. As people produce more waste, the dump needs to expand, but housing developments encroach on potential expansion lands.
Before August 2018, La Pista did not have a public service to collect resident and business trash and deposit it to the municipal dump. Without that option, people burn or bury their trash, or they dump it in the woods, fields or river. In other locations, such methods have been found to negatively affect human health and the natural environment (Thompson, WHO). In La Pista, residents report that water outside their homes filters through drainage systems littered with trash, contaminating sources of drinking water.4 A report by the World Bank concludes that "improving solid waste management, especially in low income countries, is an urgent priority" because it is "arguably the most important municipal service and serves as a prerequisite for other municipal action." (Hoornweg & Bhada-Tata 2012). We hope this project will contribute to a better understanding of ways to improve trash management systems at a micro level, using La Pista as a case example.
The last 15 years have seen rapid growth in Nebaj's municipal population, and residents of La Pista, Guatemala have observed a rise in inorganic trash, especially plastic bags, bottles and packaged snack foods. According to Miguel and other community surveys, the rise in convenient plastic packaging, widely available in La Pista's tiendas, has reduced the traditional use of organic and reusable materials, like leaves and woven baskets, to transport food and other items. Tiendas are the largest consumers and producers of inorganic, disposable waste in La Pista because of packaging and plastic bags, though most homes reported that they also accumulate their share of garbage. As inorganic waste production has increased, the need to invest in and organize trash management infrastructure has grown more urgent. Unfortunately, Nebaj's municipal trash management planning has failed to keep up with the needs of its constituents. La Pista was facing a mutually reinforcing, two-fold problem including both environmental and policy challenges.
Prior to July 2018, La Pista had had three trash pickup events in which residents helped pick up trash from the streets, demonstrating a collective interest in environmental cleanliness and improved trash disposal options. But, because there had been no continued service, trash always returned to the streets, and people continued to burn, bury and litter.
While the larger Municipality of Nebaj has all the infrastructure for their own trash management system, there had been no coordination for managing the garbage of auxiliary villages like La Pista. The auxiliatura reported that they had attempted to contact the Muni about coordination for a service, but the Muni had been unresponsive. It is possible that coordinating with La Pista would have imposed an additional strain on municipal resources like truck drivers, gas and coordinating schedules, thus deterring Nebaj authorities from responding to La Pista's requests for support.
It would have also been difficult for the private sector to take ownership for this project because of the high initial startup costs for entrepreneurs. In addition to a truck, an entrepreneur would also need public land for a dump and workers to sort through the trash. Thus, it would have been logistically difficult and expensive for La Pista entrepreneurs to begin this project without Muni support. Furthermore, the venture likely is not profitable enough to even pay off the additional investment, much less receive any sort of revenue, meaning there is virtually no profit incentive for an entrepreneur to assume the fiscal responsibility. Ultimately, it was important that a new system in La Pista be approved by Nebaj authorities and work within the municipal framework.
Working with the local community organization Soluciones Comunitarias, we surveyed individuals in La Pista to learn that store and homeowners would be willing to pay for a truck service that would take their trash to the dump. Contrary to the information deficit model, the majority of people we spoke to in La Pista knew that burning trash was harmful and were aware that it would be ideal to consolidate and send their trash to an existing waste management facility such as the Nebaj dump, however they lacked basic trash management infrastructure create a service.
Soluciones Comunitarias held meetings with the community and the auxiliatura to discuss the plan for the trash collection program. Modeling it after the service that had previously been implemented in the main municipality of Nebaj, we met with the government of Nebaj and asked for infrastructural support for a new trash management system in La Pista. The mayor and his Health Commissioner agreed to allow La Pista to contract a municipal garbage truck to deposit their trash in the Nebaj dump, and we scheduled the first trash collection for August 16, 2018.
Leading up to the first collection, we worked with the La Pista auxiliatura to publicize the new service with the hopes that high participation would build momentum for the project to continue. On the morning of August 16th, people piled their trash on the edge of the soccer field in the center of town and paid the secretary of the auxiliatura their collection fee depending on how much they brought. One nylon bag cost Q1.5 In total, 71 participants (families, store owners, and individuals) brought their trash on La Pista's first collection day.
For more information about the details of the intervention, including our project design process and justification, contact the authors for access to our case study, "Trash Management in La Pista, Guatemala" (Dunlevy & Pomp 2019).
From August to December, excluding November, there were monthly trash collections in La Pista, and the Nebaj Muni has commended La Pista leaders for their achievements and for setting an example for other aldeas. Even so, Muni scheduling issues have caused the program to falter regarding consistent monthly collection, causing a cancellation of the service in November.
The trash collection service in La Pista is an example of a voluntary action policy instrument that requires some level of government expenditure. The government must use the revenue from the service to contract the garbage truck, providing basic infrastructure and communicative signals regarding proper participation methods. However, it is up to the individual whether they pay for and participate in the service.
Four months later, in December 2018, we returned to La Pista for two weeks to learn how the program was functioning and possible ways to improve the service. We considered the question: how has La Pista's trash collection service developed over its first four months, and what are the community's perceptions of it? More specifically, we wanted to know program participation numbers, what people's motivations are to participate or continue to burn/bury their trash, and how people would like to see the system grow and improve.
We conducted three types of interviews with community authorities and leaders, the Health Center and La Pista residents. Questions for community authorities covered participation and general functioning of the program. We also interviewed the Health Center about their role in the project and the potential impacts of the program on the health of La Pista residents. Finally, we interviewed La Pista residents about their participation and their motivation for participating or not and asked for suggestions to improve the program.
We set out to answer these questions by first attending a meeting of community leaders. Later, we surveyed a worker at the Puesto de Salud (Health Center). By talking to authority figures, we gathered general information about the program's progress.
We spent the majority of our field research time conducting community surveys. Over the course of two weeks, we used haphazard sampling to select survey participants. We walked around different areas of La Pista, knocking on doors and entering stores as we went, to get a sample size of 48 that represented La Pista geographically. Each day in La Pista, we surveyed in a different area. At each home or store we asked the name of the interviewee, asked permission to record the conversation, and conducted the survey, writing notes as necessary. We did not collect any demographic data such as age or gender, as we believed it would be invasive and culturally inappropriate given our position as foreigners. We also did not collect information on the family wealth, which could have been a useful indicator of program participation. Ultimately, we conducted 48 surveys in a town of 550 families. As such, our results may be unrepresentative of the larger population of La Pista.
Our haphazard sampling may also introduce bias into our results. For example, La Pista residents that were willing to talk to us might already value community participation and social service to a certain extent. Therefore, it is possible that people who said yes to an interview were already more inclined to use a social service such as a trash collection program.
Survey questions
Behavior
What does your family/this store do with its trash?

Do you know of the truck that comes to collect trash?

Have you used this service?

Do you bring your trash to the truck monthly?

What did you do with your trash before the service started in August?
Motivation
What is your reason for (not) participating?

Do you know of anyone who does not participate and why they do not participate?
Suggestions/Feedback
How do you know when the truck is coming?

Is the service easy to use?

Are there changes or additions that could be made to improve the service?
Cultural differences make it difficult to ask questions that are hypothetical or too abstract of people in La Pista. Answers to such questions are often either too short to be meaningful or difficult to extract without asking leading questions. For example, asking someone if they participate in community organizations or events might not extol a complete answer. A response might include school functions but exclude church or community gatherings that a family indeed attends. Also, asking someone to rate the trash collection service on a scale of 1-5 proved difficult because it was abstract, did not get at the qualitative information we were looking for and seemed in general to be an arbitrary and relative measurement for program evaluation.
Upon our return to the United States, we listened to our survey recordings and coded them according to the questions we asked and patterns that emerged in the answers.
Due to our small sample size, we pooled survey answers from store owners and employees and residents.
I. Behavior
On collection days, the secretary of the auxiliatura records each participant in a notebook. Figure 1 shows program participation numbers according to the secretary's notebook. Because we do not have exact population numbers for La Pista, we count participants by number. In addition, a "participant" can be a household, a store or business, and organization or an individual. According to the secretary, one possible explanation for the initial decline in program participation numbers is that when the garbage truck comes more frequently (i.e. once a month), people do not have as much inorganic waste to dispose of. Therefore, they will wait for the next month's service. This suggestion seems plausible, but more exact data regarding how often the average person or business in La Pista produces enough trash to require disposal would be needed to support the idea.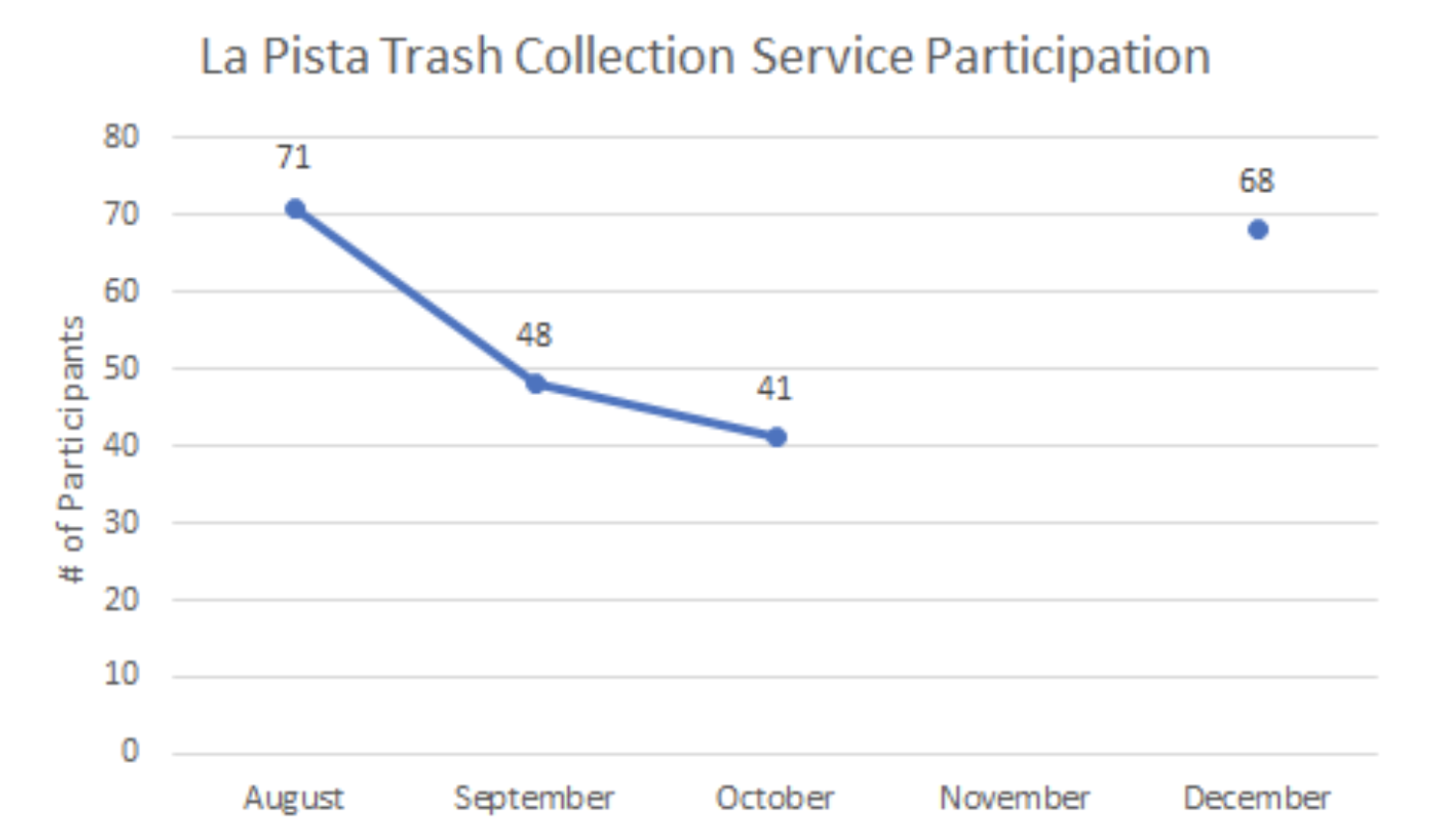 40 respondents (83.33%) out of our sample of 48 reported that they had participated in the trash collection service at least once. We will call these 40 people "consistent users." We were unable to determine, based on survey responses, if people had participated once, one-three times, or every time because survey respondents did not explicitly report behavior like, "I brought my trash to the truck in September but not in October." We also believe it is possible people reported themselves as consistent users having unknowingly missed a service due to the inconsistent timing of the garbage truck service. Our survey potentially could have produced three groups of people–consistent users, inconsistent (one to three time) users, and nonusers–but our data does not identify any one-three time users. Therefore, we include anyone who reports having used the service as a "consistent user," acknowledging that some of the 40 are likely inconsistent users. Failing to distinguish between consistent and inconsistent users likely skews our results because the rate of participation from our surveys greatly exceeds the rate of participation according to numbers reported the secretary of the auxiliatura. Thus, our record of consistent users is likely inflated when compared to the probable actual proportion of the population that participated.
II. Motivation 
Of those 40, 57.5% said that they participated to protect or care for the environment. When coding, we considered desires to keep the streets and the community clean and prevent contamination as environmental protection. Table 2 shows participants' reported motivations. Some participants mentioned motivations in more than one category, and some participants who reported participating had unclear reasons (shown in the "Unknown" column on the graph).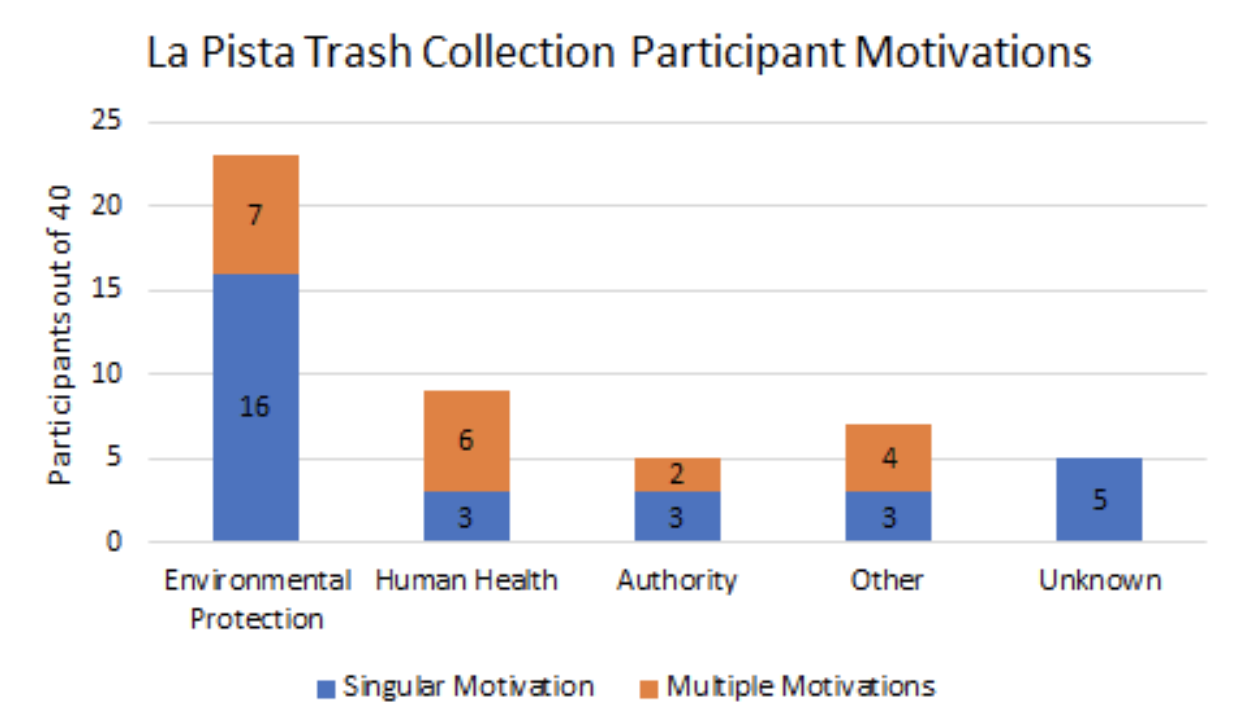 Health issues include concerns about smoke and dirty water. Some residents expressed concern that water filters through garbage in streams and gutters, contaminating drinking water sources or encouraging breeding of bugs and diseases. It is possible that sometimes residents who cited environmental protection as their motivation were implicitly evaluating the effects of environmental contamination on human health. For example, one store owner said, "It is better to use the truck because there [in the dump] they do not burn it [the trash…]. It is better not to burn because we know it contaminates the environment…. It is important [to care for the environment] because global warming is global. If we do not protect it, in the future it will affect the water, contaminate the soil, the trees, and even the animals." We coded this response as "environmental protection," although it is likely that the interviewee had human health in mind when speaking about soil and water contamination, However, we only coded a motivation as health when the interviewee specifically said they participate to protect people's health. Taking this into consideration, our count of environmental protection motivations may be much higher than health, and all six people motivated by health and other reasons (the orange part of the health column) were also motivated by environmental protection.
If someone reported the authorities as their motivation, one of the reasons they participate is because the auxiliatura has told them to stop burning their trash and bring it to the truck. Other motivations included ease and the idea that "they know what to do with it [the trash]" at the dump.
Among non-participants, inconvenience was cited as a reason for not participating three times. One person said, "I only take out my trash, and there is a lot of it, and burn it. As I am old and very tired, it takes too much effort [to bring the trash to the collection site]." Coding for inconvenience also includes answers that burning trash is more convenient and the truck stop is too far away.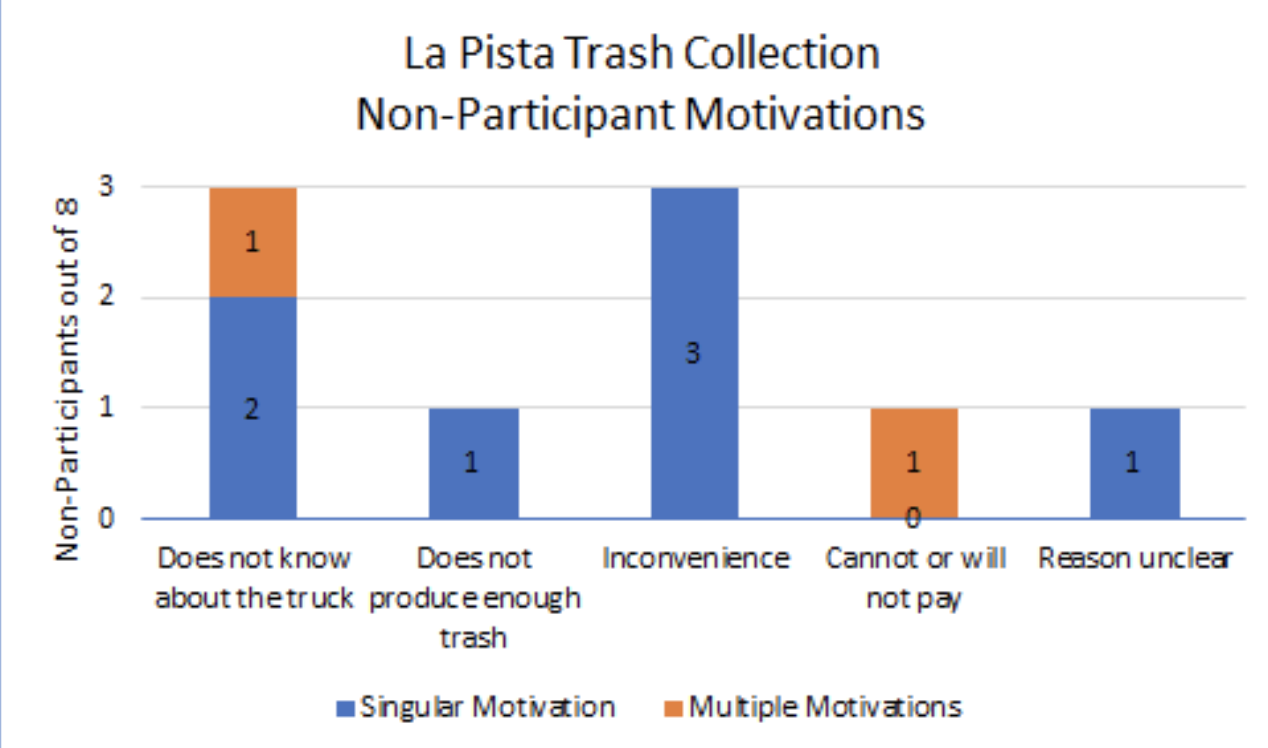 III. Suggestions/Feedback
Our surveys revealed a myriad of ideas for project improvement and expansion, including having someone collect people's trash door to door rather than having everyone bring their trash to the field. Some wanted the truck to come more often and/or to have a fixed service date for each month. Others want to run capacitaciones (empowerment workshops) to show people why and how they should participate.
One participant involved placing public garbage cans in each sector of La Pista, an idea that had been discussed during the summer but not fully developed due to reservations about dogs and large deposits of trash in the interim periods when the truck has not yet come.
As we got further from the soccer field pickup location, we talked to a few residents who reported not knowing about the service. We recommend that the bocina more thoroughly advertise to residents further away from the central pickup location and possibly providing assistance for them to bring their trash such as subsidizing (or partially subsidizing) the cost of a tuk tuk (moto-taxi).
We hypothesize that the trash collection service was successful because residents had previously demonstrated interest in seeing and motivation to make change in La Pista's trash management practices. Three attempts to clean up La Pista were reportedly successful; all that was lacking was an initiative to create a sustained public trash collection service. When we interviewed residents in December, many articulated compelling reasons why they participated in the trash collection programs, ranging from environment to health, expressing personal investment in the project and belief in the benefits of participating. Additionally, there seems to be a strong sense of community responsibility among residents. As we walked around La Pista with Virgilio, it appeared as though most residents knew one another. They greet each other on the street and recognize each other in stores. La Pista also benefits from a strong leadership structure. Residents of La Pista are receptive to the auxiliatura's authority and comply with La Pista rules and regulations.
Despite the many benefits of La Pista's social and political structure, there are weaknesses in the trash collection service. One of the most fundamental weaknesses of the program is its dependence on the Nebaj Muni's infrastructural coordination. The Mayor of La Pista scheduled a trash collection in November, but the Muni cancelled. In the summer, La Pista authorities directly asked us to meet with the Muni, as they believed that our presence as foreigners would encourage support and hasten action on the part of the Muni. Having foreigners carry out political communication like this is not necessarily the most sustainable way to build relationships, and if the Muni were ever to withdraw their support of the project, it would be quite difficult for La Pista authorities to continue the trash collection service. This potentiality seems less likely now, however, as the Muni has praised La Pista's efforts.
Further research could investigate how community structure and participation influences program sustainability and effectiveness. It would also be prudent to explore La Pista's political relationship with Nebaj. What are the sociopolitical effects of an aldea pursuing development projects outside of the Muni's direct initiative? Over time, another opportunity could be an exploration of how La Pista's trash management system could influence practices in other auxiliary aldeas of Nebaj.
Beyond Nebaj, surveys of other Guatemalan communities with varying governmental structures, public participation habits and trash management infrastructure to see what makes some programs more "successful" than others could be a significant contribution to waste management literature. For example, some developing cities are making concerted efforts to reduce inorganic waste production. In 2018, in San Pedro La Laguna, a Mayan village and rapidly growing tourist hotspot, the mayor Mauricio Méndez received approval to ban the sale and distribution of single-use, "disposable plastic bags, straws, and expanded polystyrene containers" ("This Mayan Village" 2018). Instead, residents of San Pedro La Laguna use palm leaf baskets and wrap meat in banana leaves, as one resident says her "grandmother used to do" ("This Mayan Village" 2018). Why has this policy been implemented there and not elsewhere in Guatemala?
Statement on Researcher Positionality
We are university students with limited time to travel to Guatemala. As a result, during both site visits we pushed to have trash collection days before we had to return to the States, pressuring local time customs and potentially affecting natural behavior. While it is difficult to parse out the effects of our direct influence on the project, for example whether the December trash collection service would have definitely occurred in December or been delayed until January, it is important to recognize that we certainly may have had such an unnatural effect. However, our positionality as outsiders also had benefits. We were able to genuinely ask questions about how things work in La Pista rather than making assumptions about what could or could not be done, enabling us to approach the problem with a more objective perspective. Also, we were able to schedule a meeting with the Mayor of Nebaj because of our relationship with Miguel. These advantages helped jumpstart the project, demonstrating potential positives of foreign intervention, although we do recognize foreign intervention's weaknesses which we discuss in the section above.
Thank you to our faculty sponsor and advisor Dean Karlan, and to Kim Suiseeya for for providing additional feedback. We would also like to thank our local partners in Guatemala, Marta Verani, Katie Brickwood, Grace Galloway, Luke Burchell, and Greg VanKirk of SEC, CES, and Project X, SolCom and El Descanso staff, and our host families in Antigua and Nebaj. Thank you to Peter Civetta, Patrick Eccles, and Stephanie Marin for helping us return to Guatemala. And, of course, thanks to our GESI team–Jason Kwon, Andie Gomez-Patron, Evan Nixon, and Anamaria Sayre.
The study resulting in this publication was assisted by a grant from the Undergraduate Research Grant Program which is administered by Northwestern University's Office of Undergraduate Research. However, the conclusions, opinions and other statements in this publication are the authors' and not necessarily those of Northwestern University or its affiliated programming.
BIBLIOGRAPHY
Azzi, Elias. "Waste Management Systems in Lebanon: The benefits of a waste crisis for improvement of practices." 2017. https://kth.diva-portal.org/smash/get/diva2:1139992/FULLTEXT01.pdf. Accessed 26 Oct 2018.
Carter, Neil. 2018. "Policy instruments and implementation." Chapter 12 in The Politics of the Environment. Cambridge: Cambridge University Press. Pages 332-366.
Dobson, Andrew. 2016. "Environmental Politics: A Very Short Introduction." Oxford: Oxford University Press.
"Environment and Health Risks: a Review of the Influence and Effects of Social Inequalities." World Health Organization, 2010, www.euro.who.int/__data/assets/pdf_file/0003/78069/E93670.pdf.
Gerber, Julien Francois. "Environmental Justice Organisations, Liabilities and Trade." Environmental Justice Organisations Liabilities and Trade, www.ejolt.org/2012/12/environmentalism-of-the-poor/.
Hettiarachchi, Hiroshan, Sohyeon Ryu, Serena Caucci and Rodolfo Silva. "Municipal Solid Waste Management in Latin America and the Caribbean: Issues and Potential Solutions from the Governance Perspective." 10 May 2018.  http://collections.unu.edu/view/UNU:6506. Accessed 22 Oct 2018.
Hoornweg, Daniel and Bhada-Tata, Perinaz. "What a Waste: A Global Review of Solid Waste Management." Urban Development Series Knowledge Papers, The World Bank, Mar. 2012.
Kretzmann, J. and McKnight, J. (1996) Assets-based Community Development. https://onlinelibrary.wiley.com/doi/abs/10.1002/ncr.4100850405.
Kretzmann, J. and McKnight, J. (2005). Discovering Community Power. A Community-Building Workbook from the Asset-Based Community Development Institute, School of Education and Social Policy, Northwestern University. PDF.
Martínez Arce, Evelyn, et al. "Regional Evaluation on Urban Solid Waste Management in Latin America and the Caribbean: 2010 Report." IDB – Publications, Inter-American Development Bank, Jan. 2010, publications.iadb.org/en/regional-evaluation-urban-solid-waste-management-latin-america-and-caribbean-2010-report.
Rubesin, Hillary and Hayes, Madison. 2019. "Their Own Ways of Knowing: Art-Based Participatory Action Research with Refugee Women from Burma." Chapter 5 in Making Research Public in Troubled Times: Pedagogy, Activism, and Critical Obligations. Edited by M. Francyne Huckaby, Gorham, ME: Myers Education Press, LLC. Pages 79-98.
Suiseeya, Kimberly. "Atmospheric Politics – Right to Pollute." US Environmental Politics, 29 Jan. 2019, Northwestern University. Microsoft PowerPoint Presentation.
"This Mayan Village Is Winning the Fight against Plastic Pollution This Mayan Village Is Winning the Fight against Plastic Pollution." UN Environment, 30 May 2018, web.unep.org/environmentassembly/mayan-village-winning-fight-against-plastic-pollution
Thompson, Andrea. "Burning Trash Bad for Humans and Global Warming." Scientific American, 2 Sept. 2014, www.scientificamerican.com/article/burning-trash-bad-for-humans-and-global-warming/.
"'What a Waste' Report Shows Alarming Rise in Amount, Costs of Garbage." World Bank, 6 June 2012, www.worldbank.org/en/news/feature/2012/06/06/report-shows-alarming-rise-in-amount-costs-of-garbage.
WHO. https://www.who.int/airpollution/en/
"2 Rubbish and Disease." Department of Health | Australian Government, Nov. 2010, www.health.gov.au/internet/publications/publishing.nsf/Content/ohp-enhealth-manual-atsi-cnt-l~ohp-enhealth-manual-atsi-cnt-l-ch4~ohp-enhealth-manual-atsi-cnt-l-ch4.2.