The Importance of Informal Relationships in Remote Work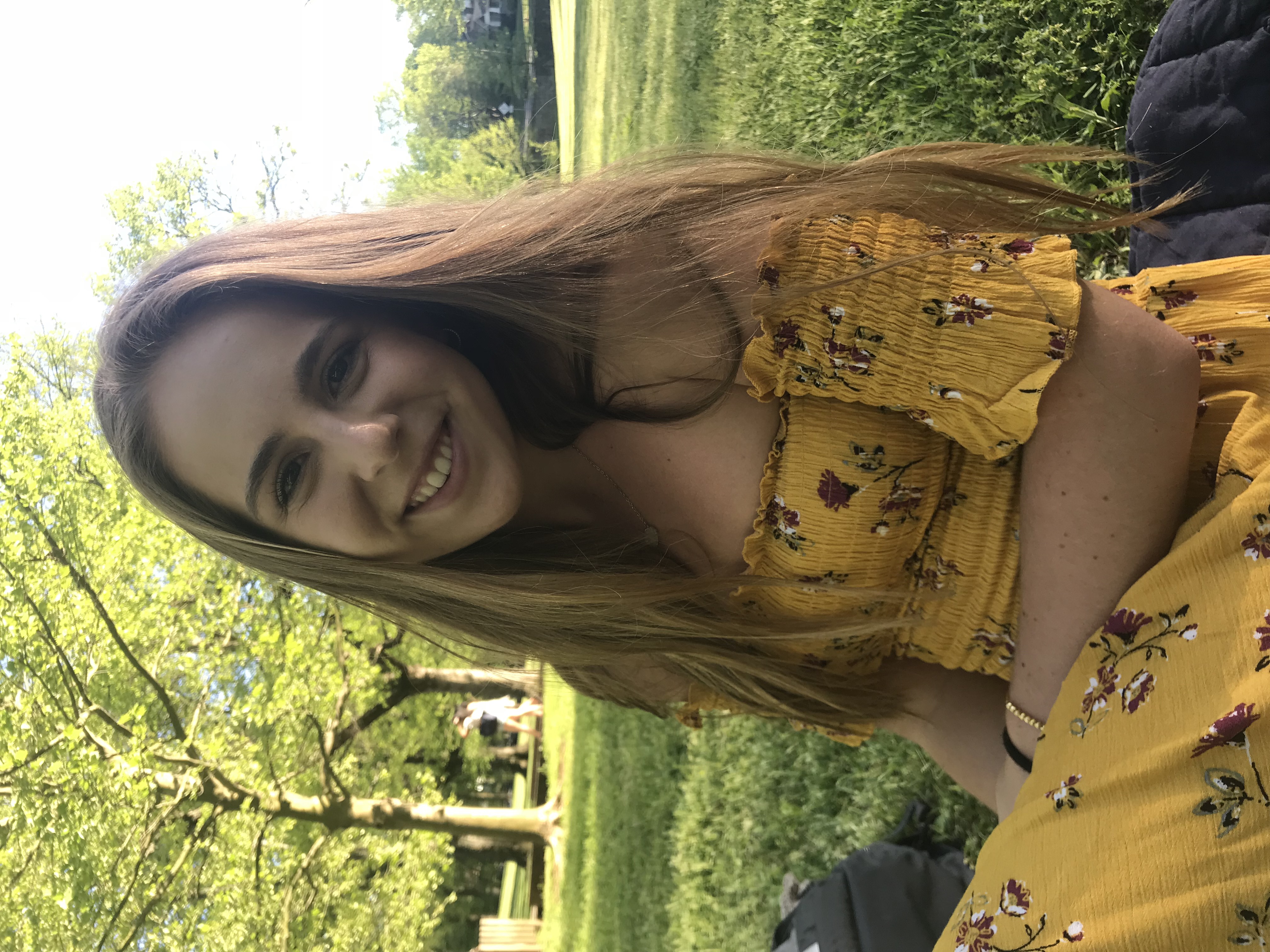 Northwestern '22
Major in Learning and Organizational Change and Spanish
Nina Wetoska is a junior who is double majoring in Learning and Organizational Change and Spanish. She has worked at several education and child-focused nonprofits, such as Big Brothers Big Sisters in both Chicago and Nashville. She got her first opportunity to participate in research through URAP. For a year she worked on a project headed by Dr. Coburn and was able to learn how to qualitatively code, formulate memos, and write paper proposals. She is currently working on the YPRPT project through the TREE lab and is looking forward to continuing that research into the Winter Quarter.
Q&A
In a nutshell, what is your research topic?
My topic is looking into how a remote company created a community, which includes informal relationships and trust.
How did you come to your research topic?
I came up with my research topic after working at the organization for several weeks. I also discussed it with Professor Lewis, and he helped me refine the topic to trust and informal relationships.
Where do you see the future direction of this work leading? How might future researchers build on your work, or what is left to discover in this field?
I am extremely interested in relationships between both larger entities and individuals. Additionally, I would like to look into roles that have been laid out and how people fill those roles. There is so much left to discover in terms of remote work and interpersonal relationships, which was brought forth by the COVID-19 pandemic.
What are your post-graduation plans?
I will hopefully be going into an education or human development related PhD program.
Summer 2020 will never be described as ordinary. Both COVID-19 and the death of George Floyd on May 25th rightfully consumed attention for months. Unlike other instances of social strife when individuals could come together to support one another in the injustices they saw in the world, COVID-19 forced all people into isolation. An opinion piece from The New York Times described wary Americans as "having two triggers for mental illness in the current crisis: sadness when we fear for our lives and stress when our emotional attachments decay as a result of social isolation (Solomon, 2020)." Losing a sense of community both severely impacted the mental health of many and intensified peoples' worries for the future.
I acutely felt the lack of in-person interaction as I began to search for internships. Eventually, I began expanding my search beyond my typical interests which revolve around childhood education. Luckily, the broadened search proved advantageous. I found a job posting for the Head of Content position at Parent-Teacher Connection (PTC) on the Idealist website. The posting said that the organization was based in a major American city. Later, however, I found out that the company ran remotely. I tried to envision what the remote internship would look like, and I began to worry that I may feel disconnected due to the lack of in-person interactions. Working at home was not an ideal situation as I was living with seven other family members and had various, time-consuming household responsibilities. Thus, the idea of only interfacing through a computer screen via Zoom or Google Chat made me nervous. I would certainly be at a disadvantage in terms of professional connections, guidance, feedback on tasks, and experiencing the company culture. However, reflecting back on it, I am fortunate that I found an internship at a remote company. PTC had to make adjustments due to the pandemic, but it did not have to overhaul its business model and sense of community among employees. The organization was able to create a community through intentionally building informal relationships.
At PTC, informal relationships, which help build trust among team members, heavily influence how individuals communicate and interact with each other. It was the first thing that I noticed in my initial team meeting. The beginning of the meeting consisted of people casually chatting about comedic incidents involving their children. This particular company is a non-profit educational company with a small yet expanding team of six full-time employees of whom one identified as male and five identified as female. Previously, I had been uncertain about how relationships looked or conversations flowed at virtual organizations. During my experience at PTC, I sought to understand how informal relationships are curated in a remote environment and how they impact productivity, group morale, and trust.
My practicum class helped me set a background for this new experience through discussions of academic articles, such as "Trust in Virtual Teams: A Multidisciplinary Review and Integration" by Hacker et al., to assist me in comprehending the creation of trust with an entirely virtual team. I also closely observed the team's procedure for welcoming a new employee and incorporating them into the preexisting team dynamic and company culture. Additionally, I interviewed CEO and Co-founder Katherine Russell about her approach to fostering relationships between the members of the team and her perspective on the role of informal relationships within PTC. The interview with the CEO proved to be insightful and thought-provoking. She emphasized that at the end of the day the most important aspect of a company is its mission and how the organization lives it out. Through the hiring of individuals who echo the company's mission statement, the team is tightly bonded by their shared values. PTC aims to serve low-income communities by providing a service that enables parent-teacher communication, eliminating the language barrier through a translation feature, and giving parents tools and activities to assist in their child's learning. The ties among employees that resulted from the shared values of equity and accessibility led me to seek out a conversation with my supervisor and Senior Project Manager, Charlotte Klein, about her point of view on informal relationships in both her current job at PTC and her previous places of employment. Hopefully, these findings can be expanded to solve the issues of which relationship attributes would foster successful at-home learning in the fall, particularly the relationships between caregivers and teachers during the era of distance learning.
As fuel for the creation of these bonds, Russell often dedicated time out of team meetings, which currently occur three times a week, to prompt the group with questions that evoke emotion-based responses instead of knowledge-based responses. She would describe these conversations as taking a moment to step back and check-in with each other as people. To explore this topic, I took detailed notes during each of my interactions with more than one member of the team. I recorded details of the team dynamics, focusing on who shared their perspective or took control of the discussion. More specifically, I documented the topics of conversations and tone of voice used as the subjects fluctuated between personal and professional information. Furthermore, their facial expressions exposed an additional layer to the analysis. The combination of these aspects, which I analyzed through taking my observation data and sorting it by each individual, allowed me to examine the extent of their informal or personal relationships. An aspect that I honed in on during my time at PTC was the cultivation, strengthening, and maintenance of these interpersonal relationships.
Extensive research has been done on the inner workings of team dynamics, such as the study "Trust in Virtual Teams: A Multidisciplinary Review and Integration." In this article, the authors state that "trust is commonly found in teams with shared or aligned goals (Hacker et al.)." In a qualitative analysis done by Ban Al-Ani and David Redmiles on their empirical study of developers working in a large Fortune 500 organization, they found that trust was typically not reported as a concern by respondents who were a part of a smaller team compared to larger teams. The data shows that the common denominator to the factors inhibiting trust within distributed teams is the time spent communicating with one another either virtually or in-person. Dedicating time to maintaining workplace relationships will help teams grow and blossom, leading to increased trust in work-associated matters (Al-Ani & Redmiles, 2009).
Another article that highlights trust, but in a school system context, is "Absorptive Capacity: A Conceptual Framework for Understanding District Central Office Learning." The article claims that "when informal interaction is characterized by trust, all parties are more willing to share and exchange information in situations that require them to be vulnerable and take risks (Farrell & Coburn, 2016)." Early in my experience at PTC, I witnessed free-flowing exchanges of ideas and information. Employees shared with such ease that it took me by surprise. A critical part of my analysis disentangles the variety of factors that contributed to how this organizational standard of communication and reciprocal trust came to be.
During my first week as an intern, we participated in an event called the Day of Racial Healing. In order to provide context for the proceeding conversation, there are no Black team members, though there are several people of color. The event was produced by a member of the PTC Board and included appearances by several celebrities, such as John Legend, and scholarly guest speakers, such as Dr. David R. William, a Professor of African American Studies and Sociology at Harvard University. In a team meeting the following day, we discussed our thoughts and feelings towards the event. Everyone was encouraged to speak and given the time and support to do so. Empowered by the vulnerability that individuals displayed with their remarks, I shared experiences I had at Black Lives Matter protests and the conversations I had been having with my Black friends. After I shared, several of my coworkers either offered up questions or contributed their hopes for the recent resurgence of the Black Lives Matter movement. The common thread of our conversation was our shared desire to see that this effort results in systemic and long-lasting change. I left that team meeting feeling refreshed, feeling closer to the other members of the team and delighted that the CEO had dedicated time to fostering this conversation.
The ensuing weeks proceeded with similar energy. Team meetings, which occurred on Mondays, Wednesdays, and Fridays, were utilized as both a bonding opportunity and time to review and plan for future work-related projects. There was typically a prepared agenda, but there were several occasions when there were few or no agenda items to go over. Yet, the meetings still filled the entire fifty-minute time slot. Initially, I wondered why they would stay in the Zoom if there was not a concrete objective to be achieved. It was not until I began observing through a lens of informal interactions that I discovered the dual purpose of the meetings.
Comfort among team members increased by being able to converse frequently and regularly. The subsequent bonds and connectedness caused them to be excited to share important life moments. The Senior Product Manager, Jarod Baker, had a baby during the third week of my internship. Though the impending birth had been a seemingly lighthearted topic of conversation during meetings, the day the baby boy was born proved to be extremely sweet and sentimental for the whole team. Jarod sent a picture of his baby shortly after he was born to the team's Google Chat room. Everyone instantly responded with supportive and thoughtful remarks. The team even sent Jarod and his family a celebratory cake.
Moving into the second half of the practicum, team meetings continued to provide ample opportunities for me to observe the informal relationships present within PTC. An entire Monday morning meeting was dedicated to sharing our emotions and thoughts regarding COVID-19. Each person took a turn talking and was acknowledged afterward by the others in the form of a follow-up comment or question. Another meeting began with an impromptu meditation session. Several members of the team mentioned that they were experiencing a frustrating morning thus far, so Katherine decided that we should take a break to collect and center ourselves. Though the meditation was only three minutes, the gesture illuminated the care and concern that the team shares for each other. The sixth week contained both a Secret Santa exchange and my midterm evaluation presentation. We used Elfster to execute the Secret Santa, which allowed the gifts to be more personal and appreciated by the giftees. Being able to give and receive gifts and food from each other was a wonderful and uplifting experience. During this meeting, I presented my qualitative analysis on the parent and teacher surveys from the end of the 2019-2020 school year. These surveys came from school districts that PTC serves all across the country, most heavily from lower-income neighborhoods in Louisiana and California. I consolidated their feedback on what was especially helpful or not effective about the services provided by PTC in order to make strategic suggestions for content and services moving forward. Thankfully, the presentation was well-received, and everyone was extremely kind with their feedback. They made me feel appreciated and proud of my area of expertise.
Seven weeks into my internship, Joanne Chung became part of the team as the Customer Service Manager. Witnessing the onboarding process of a small startup company allowed me to examine the priorities of PTC. One priority was having positive working relations. Before Joanne attended her initial Zoom team meeting, she had already met every full-time employee at the company during a group interview. They were able to get a sense of her personality and working style prior to her first day, which made the social onboarding more comfortable and easygoing for Joanne as well as the other team members. Additionally, she filled out a collaborative Google Doc form which included pictures and fun facts about each employee. Though outwardly trivial, these entries lessened the division between personal and professional. The team also looked to expand the Content Department. One of the applicants for the position was a relative of our Head of Client Solutions, Brittany Samuelson. During a Zoom when Brittany was not present, the team briefly mentioned that they would need to come up with a screening plan to ensure that they would not be biased during Brittany's relative's interview. Lastly, the full-time employees developed a Team Charter based on how they want to feel and ways to achieve those emotions. After its completion, we discussed the charter and decided to implement a Google Chat Reminder Bot and CHIPS, or Charter in Practice, recognitions. Consequently, several team members took the time to extend appreciation for the hard work of individuals more frequently. The creators of the document emphasized that it is a living document that needs to be periodically revisited and lived out. Speaking to Katherine explicitly about informal interactions and relationships within the team led to more extensive explorations of the topic outside of my analysis of team meetings. At the beginning of our interview, Katherine spoke about her desire and efforts towards creating a space for people to comfortably communicate with each other. She quipped that she is heavily motivated by fear, specifically the fear of devolving into a culture that is not constructive. Her perspective on issues that arise is that the most important part of the incident is how the problem is solved. Instead of looking back to point fingers and place blame, Katherine guides the team to recognize the efforts of those that have helped resolve the issue. The sustainability of this management style lies in the constructive and positive attitude that coworkers maintain throughout the process of rectifying a problem rather than placing the blame. In essence, they are able to have a more relaxed approach to complications because they trust in the abilities of the other team members. As noted in the study on the Fortune 500 companies, time has played an important role in the formation of this trust (Al-Ani & Redmiles, 2009). Prior to creating PTC, the co-founders had worked on projects together at their former place of employment. The majority of the team has been there since the very early days of the company, which was founded in 2016. They have been afforded the luxury of time to kindle the necessary asset of trust. Another effort aimed at sustainability came in the form of the Team Charter, which was spearheaded by the co-founder and Head of Research and Curriculum, Rachel Goldberg. Undoubtedly due to Rachel's background in emotional intelligence, the charter highlights the individuals' core values and desired emotions while working. Two of the nine stated objectives were to connect with systemic inequalities and to revisit the mission or vision of the company often and intentionally. Both Katherine and Charlotte emphasized that the mission is everything. Drastic worldly events that are out of the company's control may arise, such as the current pandemic, but to continue serving the company's purpose, the team has to look back and see if it is carrying out its mission. This sentiment carries over into the hiring process. In response to what she looks for in a candidate, Katherine replied that "it's a skill fit that underlies a culture that we want to maintain here." The company explicitly screens for how applicants work with remote teams, manage conflict, and problem solve. Charlotte noted that PTC seeks out people who have prior experience with remote work because they have already found strategies to be connected and communicative in a remote format. This eliminates many of the growing pains that new hires experience and allows them to quickly join the team's shared sense of purpose.
Though Charlotte's interview included insight into pieces such as the charter and hiring process, she spoke most thoroughly about how to navigate informal relationships and their effects on the work at PTC. She noted that there are simple actions to keep in mind when working across time zones, such as being respectful of each other's time and responsive whenever possible. While speaking on the subject of PTC being a remote company instead of a more traditional company, Charlotte said, "we have to be more intentional [with communication] because we're a remote company, so you don't have those water cooler conversations that happen in-between meetings or at the staff room or something like that." Reaching out to each other becomes vital when casual encounters in the office are not possible. Part of checking on others includes monitoring their emotional well-being. Charlotte explained that she can gauge someone's facial expressions in a Zoom meeting, and if an individual appears unhappy, she texts or messages them immediately after. The intentional, personal conversations keep the team from feeling as if they are overly robotic when working together. After being asked how, if at all, informal relationships affect the productivity of PTC, Charlotte replied, "[the presence of informal relationships] makes you feel invested, and if you feel invested then the quality of your work will go up." The bonds heighten the sense of belonging to the mission of the company, which is "to help schools ignite the potential of millions of families to support their child's learning," particularly those in lower-income communities.
During my time at PTC, the most prevalent theme I witnessed was the team members' dedication to the firm's mission and vision, which was considerably assisted by building informal relationships. It is important to note that this mission and vision were cultivated first by the two female founders of the company. The creation of community within the organization may not have taken place under traditional male leadership. Conversations during team meetings, individual meetings that I had with Charlotte, Katherine's interview, and Charlotte's interview surrounded PTC's vision to assist families in improving the educational enrichment of their children. The mission includes core values that resonate with every team member, which opens avenues for deep and meaningful conversations. These discussions reaffirm the employees' decisions to work at PTC and strengthen the organization.
Through my analysis of various types of meetings and interviews, I have found several key insights into the creation and effects of informal relationships. The three main findings are that the intentionality of informal relationships are beneficial to organizations, smaller companies can benefit from higher levels of trust and informal relationships than larger companies, and informal relationships lessen the tension that comes from workplace mishaps. In the case of PTC, formalization came in the form of the Team Charter. Subsequent integration into their weekly routines led to an increase in affirmation and an awareness of the objectives formally outlined in the charter. Putting remotely accessible practices into place acts as a fail-safe, such as the automated reminders that each individual is appreciated and the appreciation given to those who have served the organization well. These acts can make the team continue to uphold the new charter. Trust built through time between a small number of team members, as cited by Al-Ani and Redmiles, creates the blueprint for a strong social network. As a result, PTC experiences heightened communication levels in terms of frequency, comfort, and depth of content. Additionally, the trust present at PTC allows for less emphasis on hierarchy than larger companies. This positively affects their productivity because team members frequently collaborate together, use each other as a sounding board, and ask for feedback. They trust the intentions and competency of other individuals. Finally, informal relationships aid conflict resolution through a personal understanding of each team member's internal motivations. As referenced in the interview with Katherine, the organization strives to focus on the resolution of a conflict rather than the person or group of people who were responsible. The close relationships and mutual respect within the team deter individuals from tearing down one another. Due to the reciprocal trust that the team has formed over time, building and sustaining a healthy virtual working environment is easily attainable.
A few limitations of the investigation that arose due to the short nine-week nature of my internship were that I was unable to see the long-term effects of the Team Charter and the hiring process, such as the candidate choice for the Content position. Another aspect that could complicate the expansion of these findings is the nature of PTC. The organization is a small, educational technology start-up that only had six full-time employees when I began working there. Lastly, the gender makeup in the company — five women and one man at the time of my internship — could have also impacted the kindling of trust within the core team. In summary, the presence of informal relationships cultivated through a shared sense of purpose can positively affect the team dynamic and overall productivity. Though informal relationships solidified through mutual trust can interfere with professional obligations, such as remaining unbiased during the hiring process, their effects are essential to the sustainability of a remote organization's culture and building a sense of camaraderie.
References
Al-Ani, B., & Redmiles, D. (2009). In Strangers We Trust? Findings of an Empirical Study of Distributed Teams. 2009 Fourth IEEE International Conference on Global Software Engineering. doi:10.1109/icgse.2009.20 
Farrell, C. C., & Coburn, C. E. (2016). Absorptive capacity: A Conceptual Framework for Understanding District Central Office Learning. Journal of Educational Change, 18(2), 135-159. doi:10.1007/s10833-016-9291-7 
Hacker, J. V., Johnson, M., Saunders, C., & Thayer, A. L. (2019). Trust in Virtual Teams: A Multidisciplinary Review and Integration. Australasian Journal of Information Systems, 23. doi:10.3127/ajis.v23i0.1757 
Solomon, A. (2020, April 9). When the Pandemic Leaves Us Alone, Anxious and Depressed. The New York Times.